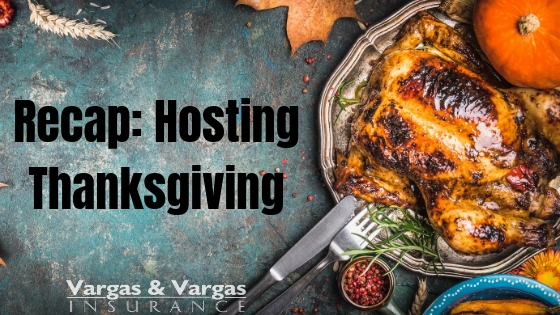 "Thanksgiving Day is a good day to recommit our energies to giving thanks and just giving." – Amy Grant
Are you going to be hosting your family's Thanksgiving this year? It's never too early to start preparations, so here are a few things you can start to consider. Just think of them as advice from your favorite Massachusetts insurance agents!
Start working on your guest list and planning what dishes will be a part of your meal.
Account for any guests with food allergies or special dietary needs.
Review food safety tips to avoid food borne illnesses.
Make sure that your frozen turkey has enough time to thaw in the fridge or a cold-water bath.
Prepare some foods ahead of time to relieve some Thanksgiving Day stress.
Ensure that your home is free of tripping hazards to prevent a home insurance claim.
Have entertainment ready, including festive music, football, and Thanksgiving activities and games.
Make cleanup a breeze by soaking dishes as you perform other tasks.
In the end, remember that Thanksgiving is a holiday about togetherness and being grateful for what you have. If at the end of the day you have to order a pizza, it's not the end of the world… it will be a great story for years to come!
If you need help with an insurance claim during the Thanksgiving holiday, call the Vargas and Vargas Insurance 24/7 emergency line at 617-322-5289. And, as always, you can call us at 617-298-0655 during regular business hours with your insurance questions or to get a free insurance quote.