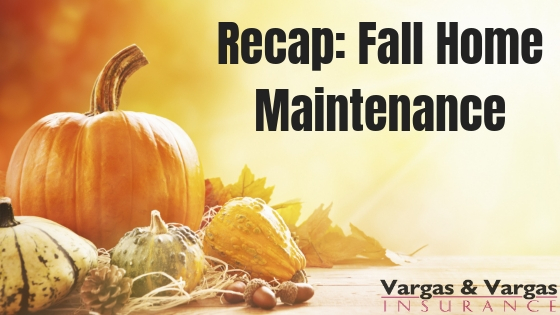 "A fallen leaf is nothing more than a summer's wave goodbye." – Unknown
Is your home ready for the winter? Many of us here at the Vargas and Vargas Insurance Agency are working through our Fall home maintenance checklists and thought that we would share some of the tasks that we are undertaking. Here are just a few examples from our longer post:
Trim trees and shrubs, taking care to get rid of anything that could cause a problem when weighted down with snow and ice in the coming months.
After the leaves fall, clean gutters and drains so that melting snow and ice can flow freely.
Exterior repairs should be taken care of as soon as possible, before everything is blanketed and access to these areas is harder.
You will soon need to use your home's heating system, so now is the time to make sure it is working and ready for the coming temperatures. Hire a professional for a check now – they will soon be very busy!
Check to ensure that you have all the gear you will need for winter. Now is the time to replace that old shovel, or to upgrade the ice scraper in your vehicle.
Vargas and Vargas Insurance Agency is here to help with one more item on your Fall home maintenance checklist: making sure that your insurance policies are ready for Winter claims! Call 617-298-0655 for a free consultation and a home insurance checkup from the professionals here at Vargas and Vargas Insurance.