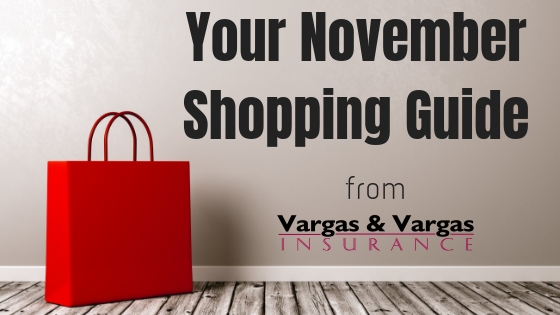 Thanksgiving is next week, and that can only mean one thing – stores are getting ready for the after-Thanksgiving sale season! Bargain hunters will be ready to hit the road to take advantage of the savings opportunities at stores across the greater Boston area… will you be one of them?
As you plan out your Thanksgiving dinner, you can also start to plan your upcoming holiday shopping excursions. Make a list of who you're shopping for, as well as some ideas for things that they might want or need. Then, you can figure out the perfect day to get them the right gift. You have three main options when it comes to getting a great deal:
Black Friday
Arguably the most well known of the Thanksgiving shopping holidays, Black Friday is when many big box retailers will offer significant savings on both small and big-ticket items. This makes it a perfect time for anyone looking for, for example, a new television to do some personal shopping. Many people also take the opportunity to make their gifting budget for the year stretch further with the significant savings. However, if you want to reap the benefits, you will have to put up with the drawbacks of shopping on Black Friday – namely, the massive crowds.
To get the most out of Black Friday, it is critical that you have a plan. Browse store advertisements to figure out which stores you want to visit, and plan your outing based on when they open – be careful, though, since some will start their sales on Thanksgiving afternoon and others will wait until the more traditional pre-dawn on Friday.
Small Business Saturday
A more recent addition to the post-Thanksgiving shopping lineup is Small Business Saturday. Only officially observed since 2010, this holiday of sorts is a celebration of the community-based businesses that we love here in the Boston area. In fact, it was here in Boston that the celebration started thanks to a partnership between American Express and the National Trust for Historic Preservation, as well as Boston Mayor Thomas Menino and Roslindale Village Main Street.
If you want to patronize your favorite small business on Small Business Saturday, snap a picture while you're out and use the hashtag #shopsmall to tell your friends that you are choosing to support our local community as you make your holiday purchases. Spending your money at small local businesses is a great way to make sure that our community thrives, and that you are getting high quality products and great customer service from local business owners. At Vargas and Vargas Insurance Agency we are dedicated to showing our support to the small businesses here in Dorchester – that's why we pride ourselves on offering top of the line business insurance policies!
2018 Lower Mills Holiday Stroll

One of the best ways that you can celebrate Small Business Saturday here in Dorchester is by attending the Lower Mills Holiday Stroll. It is a favorite of the Vargas and Vargas Insurance staff every year. Local businesses that participate will offer hot cocoa, host giveaways, and much more!
So, if you're free on November 24th from 4:30 until 7:30, consider dropping by. The trolley will be running up and down Dorchester Avenue and Adams Street all afternoon, and you might even be able to catch a glimpse of Santa Clause!
Cyber Monday
Quickly becoming one of the biggest shopping days of the year, Cyber Monday has been celebrated on the Monday after Thanksgiving since 2005. Last year (2017) people shopped online in record numbers on Cyber Monday, bringing in $3,364,000,000 – yes, that's over 3 billion dollars – in sales.
Cyber Monday is a great time to cozy up at home in your pajamas and do lots of comparison shopping right from the comfort of your own home. If you want to take advantage of this year's Cyber Monday sales, first make sure that you subscribe to the newsletter and follow on Social Media the retailers that you might buy from on Monday. You never know when they might offer extra savings or put a spotlight on a great deal that you could have otherwise missed.
Whether you choose to participate in one or all of these post-Thanksgiving shopping days, we hope that you get a great deal on what you purchase, and make sure that you stay tuned to our blog for more great winter and holiday tips, as well as advice on how to get 2019 off to a great start!
At Vargas and Vargas Insurance Agency, you don't need to wait until Thanksgiving to get a great deal on your insurance policies. Call 617-298-0655 to speak to a great Massachusetts insurance agent about your home insurance, auto insurance, and business insurance needs. No matter what type of insurance you need, we can get you a free quote at Thanksgiving and all year round.