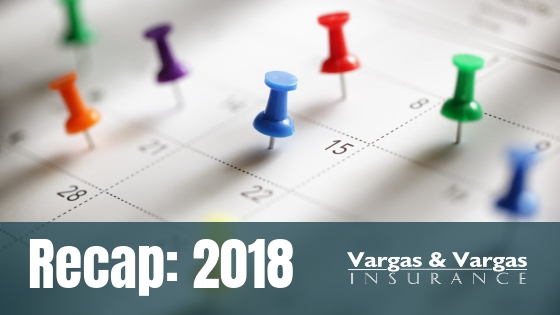 "The process for finding, creating, and consuming information has fundamentally changed with the advent of the web and the rise of blogging." – Ryan Holiday

Here at Vargas and Vargas Insurance Agency, we have put a lot of effort into providing our clients with interesting and informative content all year round. In 2018 alone, we have posted dozens of blogs with varied content – you're sure to find something of interest to you or your loved ones. Here are just a few examples of posts from the last year:

What was your favorite blog post from 2018? There are so many great ones from which to choose!

We also want to ask that you subscribe or stay tuned to our agency in 2019. We have a lot of exciting plans and we don't want you to miss a thing! There will be plenty of blogs with tips about insurance, home ownership, automobiles, running a business, and much more.

And, as always, make sure that you call Vargas and Vargas Insurance Agency in 2019 if you have any insurance needs. We will always work hard to make sure that you get the coverage you need, so don't fret – just call 617-298-0655.