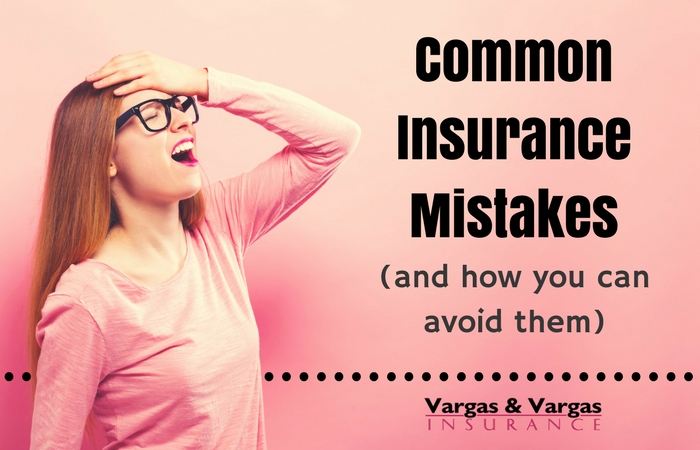 Making mistakes is a part of life. We are all guilty of having faults and making errors, but it's important to do what you can to minimize your mistakes, especially the ones that could be costly. Insurance is a product meant to help you financially recover if something happens to something you value. That is why it is so important to have the right coverage. The agents here at Vargas and Vargas Insurance Agency want to make sure that you are fully protected, so ensure that these common insurance mistakes don't apply to you.
Home Insurance Mistakes
Insuring your home for its market value – If your home is destroyed, you will need to rebuild it. This is why most insurance professionals recommend that you insure your home for its rebuilding cost.
Thinking home insurance will always cover you – There are limits on every insurance policy, and home insurance is no different. For complete coverage, you may need to purchase additional riders or policies, like earthquake and flood insurance.
Skipping a home inventory – While we hope that you never have to deal with this, home insurance will cover you if you are ever the victim of a total loss. In that case, you will need to provide a list of possessions when you submit your claim. Wouldn't it be a lot easier to make this list now, instead of trying to recall everything you own when it's gone? That's why we recommend making a home inventory!
If you don't own a home, you're not off the hook! Renters insurance and condo insurance are also available to make sure that you are completely covered even if you're not a homeowner in the traditional sense. And these policies are very important!
Auto Insurance Mistakes
Buying the minimum possible amount of liability protection – As a driver in the state of Massachusetts, you are required to have a certain minimum amount of coverage. Some people buy just that amount, not realizing that they should purchase coverage above and beyond that amount. Talk to a Massachusetts car insurance expert to find out how much coverage they recommend before you scrape by without enough protection.
Ignoring coverage add-ons – When you purchase auto insurance, you will have several options that you can add to your policy. Instead of declining all of them to lower your cost, consider the added protection they will offer and if they make sense for you. Depending on your insurance provider and policy, this could include coverage for car rentals, roadside assistance, and more.
Not considering your deductible – When purchasing car insurance, you will have to consider the common insurance trade-off: deductible vs. premium. If you're ok with spending a little more when you make a claim, you could have lower monthly payments. On the other hand, spending more on your premium could mean less of a cost when you have an issue.
There is a potential for an accident every time you get behind the wheel, so it's important to make sure that you're protected. Getting into a fender-bender or bumping into a neighbor's mailbox is generally nothing to worry about, but you don't want to cause a multi-car accident with serious injuries and then find out your underinsured.
Business Insurance Mistakes
Not enough coverage – The most common mistake when it comes to business insurance is simple: most businesses just don't carry enough coverage. In fact, it's almost impossible to have "too much" protection. Insurance is very cheap compared to the financial loss you would otherwise face, so talk to your insurance agent and see if you should increase your coverage.
Passing Up Liability Insurance – Did you see our blog post about Liability Insurance (aka Umbrella Insurance)? Having an umbrella over your existing business insurance is critical to ensure complete coverage, so don't overlook this inexpensive way to add protection for your company.
Paying for unnecessary policies – Here at Vargas and Vargas Insurance Agency, we know that each business is unique. That's why we take the time to get to know you and your business to determine the types of protection that you need. You need an agent that is experienced in providing unique policies to small businesses.
There is also one general insurance mistake that anyone is capable of: not updating policies. As time goes on, your insurance needs change. This means that you should plan on a chat with your Massachusetts insurance agent at least once a year to make sure that your insurance policies are still tailored to your needs.
If you think that you may be making one of these insurance mistakes, or if you just want an insurance professional to review your policies for gaps in coverage, call Vargas and Vargas Insurance Agency at 617-298-0655. We will do our best to ensure that your coverage is tailored to your needs, and that you will be able to rest easy if you ever need to file a claim on your Massachusetts home insurance, auto insurance, business insurance, or other policy.