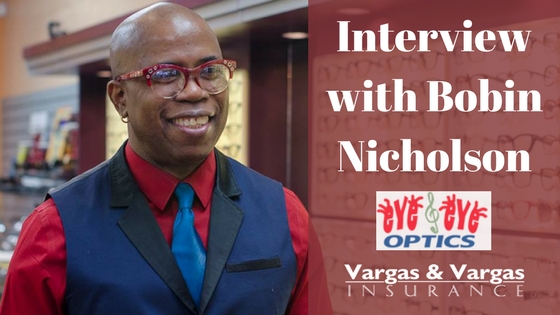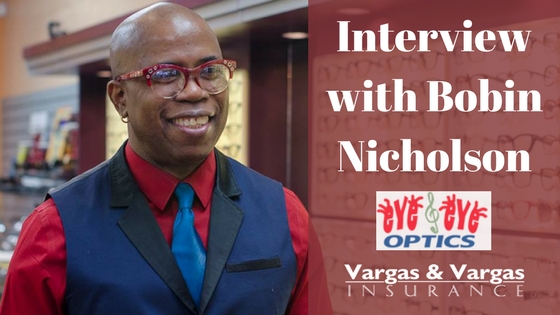 Hello, everyone! I would like to share with you a few snippets of an interview I recently did with my friend Bobin Nicholson over at Eye & Eye Optics. Bobin and his establishment are the best eyewear boutique in Dorchester – Eye & Eye Optics is the place to go if you need an eye exam or a new pair of glasses.
Carlos: Hello, Bobin! How are you doing on this lovely day?
Bobin: Hi, Carlos – I'm doing great. Loving the summer weather.
Carlos: It has been great, hasn't it? So, let's get right down to business… tell me a little bit about Eye & Eye Optics.
Bobin: Well, we're an eyewear boutique on Dorchester Avenue. We sell glasses and contacts, and we can do eye exams. We've been around since 2010, and we're looking forward to many more years here in this great neighborhood.
Carlos: This really is such a wonderful area, and we love that you're a part of it! I talk a lot about how important it is to 'buy local' – why is supporting the local economy important to you?
Bobin: When someone buys their glasses from a local shop like Eye & Eye Optics, they are receiving the expertise and quality of service that isn't found online or at a glasses chain store. Keeping dollars in the local economy is also an important part of helping Dorchester thrive.
Carlos: So, I know that you keep up with all of the current eyewear trends and styles. What is your favorite trend in glasses?
Bobin: Glasses used to be so boring – now you can find them in all shapes, styles, and colors! I like to mix up my glasses. Some days I wear more traditional frames. Other times I feel like something funky and fun. To me, it's all about thinking of glasses as an accessory to your outfit.
Carlos: That's a great point! I tend to be rather conservative with my glasses. If someone wanted to try something new, what would you suggest?
Bobin: I would probably start by playing with color. Branch out from the typical black and try blue or red, or something with a little sparkle. I have a pair of white glasses that I wear – you would be surprised at how many outfits they go with.
Carlos: Hmm, that's all the questions I have. If someone wants to get a hold of you, how should they do that?
Bobin: Well, we're open six days a week at 2271 Dorchester Avenue and they can always drop in during business hours to look at frames. If they have questions or want to schedule an appointment with our on-site opthamologist, they can call us at 617-296-0066.
Carlos: Thanks again for your time, Bobin. Have a great day!
So, if you're in the market for a new pair of glasses, or if your eyes need their annual checkup, Bobin is your guy! Eye & Eye Optics is a premier eyewear boutique here in Dorchester, and they have glasses to suit every style.
Read More