Here at Vargas and Vargas Insurance Agency, we love to support local businesses. After all, local businesses are what make our neighborhoods unique! It may be convenient to go to a chain store where you can get everything that you need in one stop, but next time you go out shopping, consider shopping at local businesses.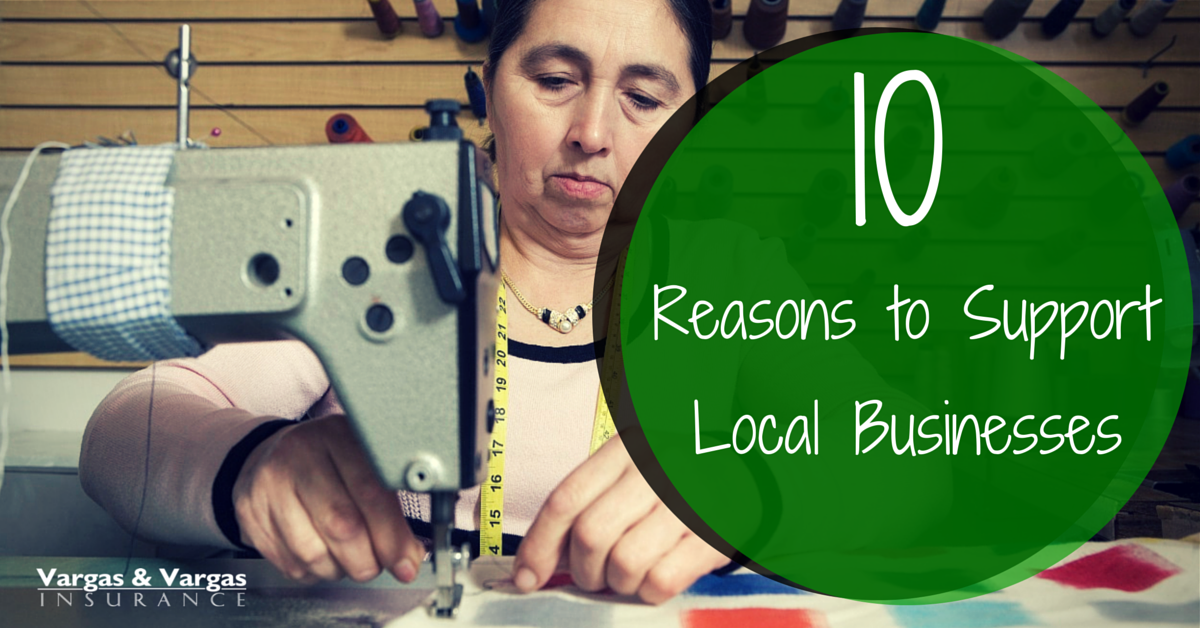 Here are ten good reasons why you should make your next trip out a small business shopping experience from our friends at Sustainable Connections:
Strengthen your local community – When you patronize local business, more of your money stays in the community, being used to support other small businesses rather than going to national chains and lining the pockets of big-wig CEOs.
Support community nonprofits – Local businesses are approximately 250% more likely than larger businesses to give to non-profit organizations. Shopping at small businesses helps your community in so many ways!
Keep the community unique – Every city has the same national chains. It's the locally owned businesses that distinguish our community from all the others.
Decrease environmental harm – Local businesses typically buy local – this means less sprawl, less congestion, less habitat loss, and less pollution than when you purchase from a large chain.
Create more local jobs – Small businesses are the largest employer nationally when considered as a whole. Spending your money locally ensures more jobs stay in our neighborhoods.
Get better service – Local businesses have a reputation for hiring the best employees – they don't settle for any warm body.
Invest in the community's future – Small businesses are an integral part of any community, and they tend to be invested in the community's future. It's why we attend and sponsor so many community events here at Vargas and Vargas Insurance Agency!
Use your taxes wisely – Because small businesses are, well… smaller… they use less infrastructure than their national counterparts. This means that your tax dollars will go further if you support small businesses.
Ensure innovation and competition – Local businesses sell products based on the needs of the community, not as the nation (or world). This means that the products sold at small businesses will be better tailored to meet your needs as a consumer.
Encourage community prosperity – Did you know that entrepreneurs and skilled workers are more likely to settle in communities that back small businesses.
If you're interested in supporting businesses in your area, consider joining a Cash Mob. A Cash Mob is an organized event designed to increase revenue at pre-chosen local businesses, like shops, restaurants, and more. Visit the Vargas and Vargas Insurance website's Cash Mob page for more information, and to find links to the Dorchester and Stoughton Cash Mob Facebook Pages.
Continue to support local Massachusetts businesses by purchasing your insurance through Vargas and Vargas Insurance Agency. We provide local consumers with top of the line home, auto, life, business insurance, and much more. Simply call 617-298-0655 and one of our agents will get to know you and assess your unique insurance needs. Don't wait any longer – call now!