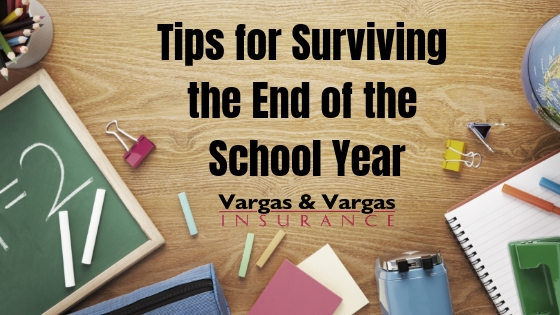 It's that time of year – kids are starting to see the light at the end of the tunnel. The school year is going to be wrapping up soon, so how will you as a parent help your child or children to buckle down and finish the year off strong, while simultaneously planning activities for summer vacation? Don't worry – your local independent insurance agency is here to help!
Stick to Your Routine
Many parents complain that once Spring Break is over, kids start to realize that the school year is wrapping up and they want to act like it's already over by begging for extra treats and later bedtimes. Remind your kids that they still have things to learn in the next few months, so it's important to stick to your usual school-time routine.
For younger kids, it may help to create a paper countdown chain to show how many days are left until the last day of school – it's an easy craft that can help children to visualize the length of time until summer vacation starts. Many parents also use this type of craft to count down to other celebrations and major days – for example, the start of a vacation, the first day of school, birthdays, Christmas, and more!
Now is also a great time to teach kids about the importance of goal-setting! Motivate kids by letting them set an 'end-of-the-year' goal and choose a reward for completing that goal – for example, finishing out the school year with good grades. This reward could be a new game or toy, a trip to their favorite restaurant (with dessert!) or going with a friend for a day of fun at a local attraction. Get creative and help your kid choose a reward that will motivate them to stay on-task at school and will encourage them to complete tests and projects to the best of their ability.
If you haven't yet, this is also the perfect opportunity to teach older kids about SMART goals. Sit with them and help them create a goal for the end of the year that is Specific, Measurable, Attainable, Relevant, and Time-bound.
Stay Organized
What is the current state of your child's school supplies? Sometimes, a few new folders or colorful pencils are all it takes to get kids back on track and excited about finishing out the school year strong. After several months of classes, it may also be time to have kids give their backpacks a thorough cleaning and reorganizing their supplies. Loose papers and inch-long pencils will easily clutter up a backpack and make it nearly impossible to find anything.
The end of the school year is also a time that tends to be chock full of class parties, award ceremonies, banquets, recitals, and more. Stay on top of what events you need to attend and make sure that you put them on your calendar as early as possible so that you don't overschedule yourself or your kids. Now is also the perfect time to plan ahead so that you know how you're going to handle a scheduling conflict if one occurs.
Another great way to stay organized at the end of the school year is to ask your child to gather contact information for his or her classmates now, especially if your school doesn't hand out a class directory. This will help during the summer if your child wants to invite one of their friends out to have fun during the break.
Plan for the Summer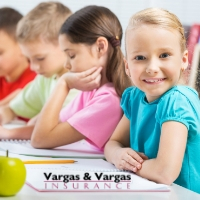 Sometimes, these last few months of school is all about making it to the end. While you use the above tips to keep kids focused on getting to the end of the school year, it's not a bad idea to let them help with making plans for their summer vacation (as long as it won't distract them too much from their studies). Whether you're planning a staycation, a road trip, a cruise, or flying to a new and exciting destination, let your children help with the planning. Younger kids can choose travel activities and get excited about some of the specific places and attractions you will be visiting, and older kids can also learn some money-handling skills by being involved with the budgeting of your trip and helping to prioritize expenses.
While your kids are still in school, take advantage of the temporary peace and quiet to call Vargas and Vargas Insurance Agency and prepare yourself for potential summer shenanigans. Have one of our expert Boston insurance agents perform a free evaluation of your current insurance policies, including your home insurance, car insurance, etc. They will be able to tell you if you have enough coverage, and help you fill any existing gaps. They may even be able to find you a new policy at a great price! Don't wait until school's out for summer: call 617-298-0655 today.