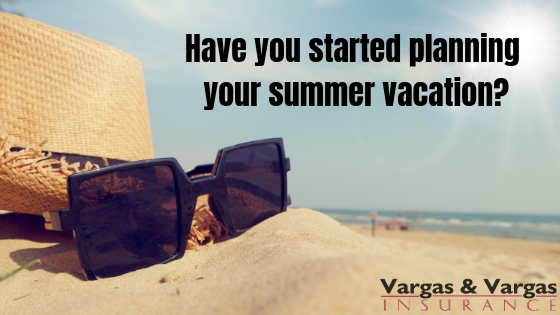 Are you dreaming of summer yet? It's been a long winter here in the Boston area (despite Punxsutawney Phil predicting an early spring this year) and at Vargas and Vargas Insurance Agency, we're in vacation planning mode! Here are just a few of the tips that we are using as our agents plan their summer getaways:
Plan Early
If you're reading this post, then you're already ahead of the game! One of the best things that you can do to enjoy your summer vacation is to start the planning process as early as possible. This will ensure that you have plenty of time to take advantage of the following tips that we're going to share!
Determine Your Destination
Where will you go when the world is your drawing board? There is something to be said for almost any destination that you choose:
Boston is a lovely city, especially in the summer. Have you seen all of the sights and 'played tourist' right here in your own backyard? The history in this city alone makes it one of the most visited destinations in the US, not to mention the savings associated with not paying for travel or accommodations on your vacation!
A road trip is a great way to see the sights. Depending on how long you're willing to spend on the road before arriving at your destination, there are many places within reach of Boston, including anywhere in New England, some very beautiful parts of Canada, and New York City. For some great road trip tips, read our Road Trip blog!
If flying is the 'how' of your vacation, then you have a lot of options. Will you choose a family friendly destination or somewhere more relaxing or cultured? If you feel overwhelmed with choices, some online sleuthing will probably be a good place to start.
Scout Out Several Activities and Events
No matter where you go, make sure that there is something fun and enjoyable for each member of your travel party. These activities can vary greatly depending on your destination and travel dates, so make sure to consider those carefully when planning. It's always fun to see if there is a special local event or festival going on during your trip, so don't forget to search the area's events calendar before you leave!
Want to do something different and fun next time you're on vacation, while also soaking up some local color? Look for volunteer opportunities in places that you're interested in going! This so called "Voluntourism" is a growing industry where people find joy in simultaneously travelling and doing good.
Outline a Rough Budget
Thinking ahead is important when you're planning a vacation (whether it's just for you or for your entire family). In addition to considering your activity schedule, sit down and make a rough outline of the costs that you will encounter during your trip. This will vary depending on many factors, but you should generally include four categories: travel, accommodations, food, and activities. Make sure to also set a little extra aside if you plan on purchasing souvenirs or gifts while you're away. And always plan for a little bit of wiggle room – after all, what is a vacation without some unforeseen expenses?
Start Saving Now
Once you've figured out about how much you're going to spend on your vacation, start setting aside some money. No one should go into debt to go on vacation and paying for whatever you can in full before you leave will help you to relax while you're away.
There are lots of little tricks that you can use to start putting aside money for your vacation fund. Many places will advocate for skipping your morning drive-thru coffee in favor of making your 'cuppa' at home. Going out to eat less and cooking at home will also help you save.
Let Loose and Enjoy Your Trip!
Once all of your planning is done and it's time to leave, there is one important thing to remember: enjoy your vacation! It's easy to get stressed about travelling and seeing all that there is to see at your destination, but it's important to let go and relax so that you can have a good time. Be open to adjusting plans as you go – some of the most fun you have on your getaway will be during the spontaneous activities that you do.
Before you leave on the trip you've planned, talk to Vargas and Vargas Insurance Agency about making sure that you're protected while you're away. We can help you make sure that your home is ready for any potential issues, your car insurance should be checked before a road trip, and we can even help you with travel insurance if you want some added protection! One call to 617-298-0655 and we will get you all set and ready for your vacation!