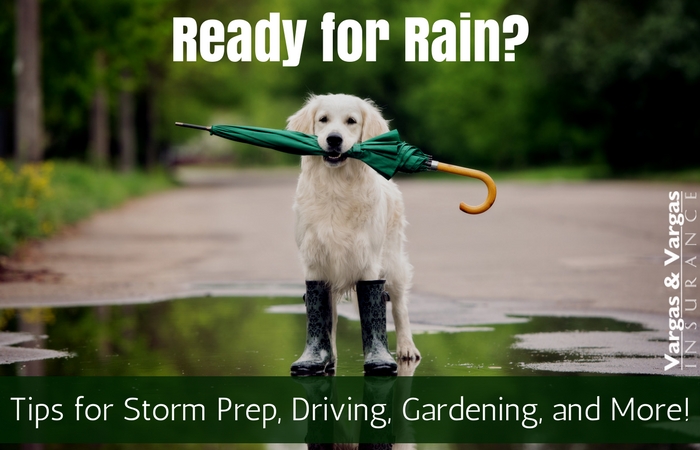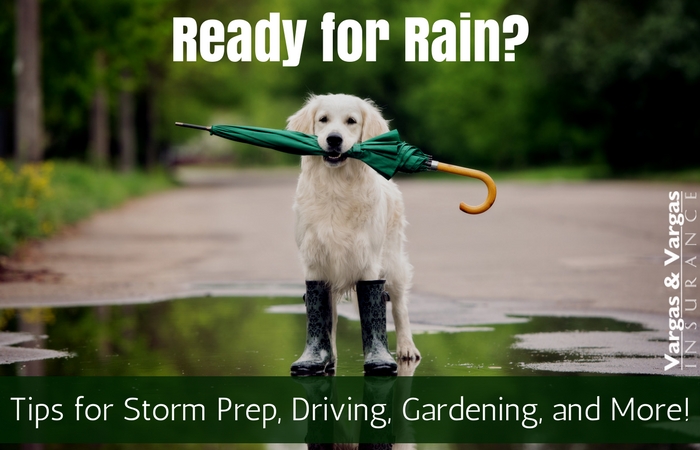 The first quarter of the year has passed, and April has arrived. Even though temperatures are still struggling to get above 50 degrees here in Boston, we are ready to welcome warmer weather. Unfortunately, as the saying goes, "April Showers Bring May Flowers," meaning that this month has a history of being on the dreary side.
To help you prepare for the rainy weather associated with the month of April, we have amassed an "April Showers" guide for the rain. Here are tips for dealing with downpours and sprinkles alike:
Storm Preparedness
First and foremost, we have some tips about how to get ready for the storms themselves. In case of a severe storm, you should have an emergency kit in your home (and one in each car). Make sure that these kits include a flashlight and extra batteries! Also include nonperishable foods in case of an extended power outage (and make sure that you have a manual can opener in the house).
Make sure that your home is ready to take on a storm by performing some maintenance, including cleaning your gutters and trimming trees around your property. Here at Vargas and Vargas Insurance, we deal with a lot of Massachusetts home insurance claims related to broken tree limbs. Taking time ahead of spring and summer storms to prune weak branches could save you a headache in the future.
Gardening
It is still definitely chilly, but those of you with green thumbs may want to start planning out your garden soon so that you're ready for planting season. Soon it will be time to plant seeds for winter harvest (like squash and potatoes) and even some flower and fruit seeds. Just make sure to wait to plant seedlings until it warms up a bit, otherwise you risk them dying due to frost!
Pest Control
The increased amount of rain in April makes it a perfect atmosphere for bugs and critters. Do your part to prevent mosquitoes by ensuring that your property isn't a magnet for standing water.
Rain also gives you the perfect opportunity to check for leaks. And any place that water can get into your home, a bug can too! Pay special attention to doors and windows, as that is the most common place for a gap. Also check for small holes around electrical outlets.
If you are having a pest problem, a trained Massachusetts pest control professional can help get the issue under control as quickly as possible.
Plumbing
It may sound silly at first, but all of the excess water falling from the sky can put a strain on your home's plumbing. This is especially true in Massachusetts, where we also have to deal with the yearly snow melt as Spring temperatures arrive.
Pay special attention to your sump pump (if there is one in your home). It is critical that your sump pump works properly so that excess water doesn't cause mold and mildew, or worse, a flood! Test to ensure that it is working by pouring water into the pit and waiting for the motor to start. Watch to see it pump water out and away from your home. You should also ensure that the pump is free of leaves and debris.
Driving and Vehicle Tips
Some people like the dreariness of rain, and it is relaxing if you're trying to sleep or want to cozy up and read a good book. On the other hand, though, rain can create treacherous driving conditions. This makes it so important to make sure that your car can handle slick roads – after all, there are over 1 million weather-related vehicle crashes every year, according to the Federal Highway Administration.
Before you drive in the rain, be sure that your tires are ready for the wet roads. They should be properly inflated according to the specifications in your car owner's manual. The tread on your tires and your car's brakes should also be checked.
When you are behind the wheel in the rain, you should increase the distance between you and the car that you are following, turn on your car's headlights (it's the law in Massachusetts!), and know how to handle your vehicle if you start to hydroplane.
Rain Gear
At some point in the next month or so, you are probably going to get caught in the rain. Now is the perfect time to make sure that you are ready when that moment arrives. After all, you don't want to be running through a rainstorm thinking, "I should have bought that raincoat!"
A raincoat is a perfect place to start when it comes to buying gear. You should also have some waterproof boots and even a hat (otherwise make sure that your jacket has a hood). Everyone also should plan to have a few umbrellas. One for your home, one for your vehicle, and maybe even an extra for your workplace.
Hopefully this blog has helped you prepare for the rain-filled Spring months ahead. If you want, tell us about some of your favorite Spring activities on our Facebook page. And make sure to stay tuned to the blog for more insurance tips and tricks.
Read More