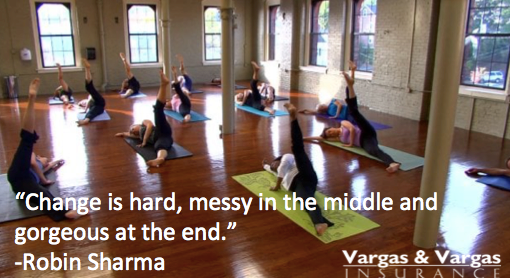 "Change is hard, messy in the middle and gorgeous at the end."
-Robin Sharma
Change is hard. I know this for a fact, as I'm experiencing it right now!
Picture this…I'm sitting in my house right now instead of sitting in traffic like I've done for 37 years.
As you probably know from my online posts, Kathy and I moved from our Stoughton home of 33 years to Dorchester Lower Mills, just around the corner from the Vargas and Vargas office. Believe me, this change has not been easy all the time, but change never is – even when we know it is the right thing to do.
One of the upsides of our move has been that we now spend less time in traffic, and have more time together, more time to get regular exercise, and more time in the wonderful community of Dorchester.
Recently, Vargas and Vargas has also made some changes. We have updated our client management system and our website (you can now send us a TEXT to our agency 617-213-2820 and much more to come, stay tuned) to help customers and friends like you contact our trusted referral partners!
We've always had a partners page on our site, but we hope that this will be a resource for you and anyone you know that is looking for any of the following professionals:
Accountant
Attorney
Contractor
Electrician
Estate Planner
Financial Advisor
Home Inspector
Loan Officer
Plumber
Realtor®
And More!
(Send me a message and I can let you know how you be on our partner's list)
And while you are visiting our new website, don't forget to check out our blog. It is always being updated with insurance tips, helpful advice, and much more.
How to Start Recycling – We Can Help!
Auto Insurance Q&A: Borrowing the Car
Best and Worst Places to Store Your Wedding Rings
Building Permits for Residential Renovations
So what does our change of address have to do with making you more money?
Many professionals start their businesses filled with excitement and passion for their new venture, but quickly realize that building a brand is hard work! Once that realization sets in and business problems begin to surface, it is very easy to get disgruntled and lose your motivation for what you originally set out to accomplish.
In the beginning, your passion creates energy that keeps you moving forward, builds excitement for the next project, and helps overcome fears and obstacles. However, maintaining that passion can be difficult as time goes on, and you might find yourself in a "rut," or longing to reconnect with the spark that once drove your business. Whether this longing resonates with you currently or you're teetering back and forth on the fence of business growth, it's imperative to implement 6 practices into your business to regain focus and reignite your flame! We'll cover the first 3 this week, so stay tuned for next week's insider to tie all 6 together!
1. Stay focused on your core business – There are a million money making ideas out there that can distract you from what your core business is all about. If you can't draw a direct connection from a new loan or listing to your new venture, scrap it! It will only distract you from making money and growing your business.
2. Take inspiration from SUCCESSFUL professionals – Surround yourself with positive individuals who have achieved success and are passionate about what they do. They'll motivate, excite and remind you of why you're in business. The right individuals will build you up with a "can do" attitude, and offer you proven methods of achieving your goals.
3. Manage your time effectively – Unfortunately, if you don't set aside time to do important tasks like following up with new clients and building referral relationships (making FROG calls), phone calls and emails can keep you busy all day long! Make sure that you schedule time in your day that's committed to taking care of the fundamentals of business development which make you money and keep you excited! If you need assistance with time blocking, I can help!
And know that you are LOVED!
Carlos