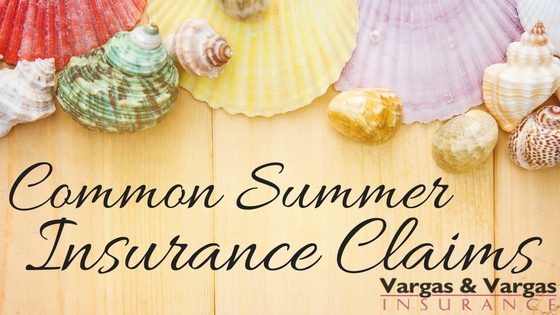 Here at Vargas and Vargas Insurance Agency, we want to make sure that your valuables stay safe. That's why we are constantly offering blogs with safety tips for our customers. And if something does go wrong, our top of the line insurance policies will help you get back to normal quickly. If you're interested, here is a short list of some of the most common insurance claims that we see in the summer time:
Car Accidents – Sure, these accidents happen all year round, but in the summer more people are on the road, whether they're going to enjoy a day at the park or going on a road trip. This increased traffic leads to an increase in auto insurance claims.
BBQ Fires – When the weather warms up, so do the grills! Barbequing is a great way to get family and friends together to enjoy the outdoors, but can be a hazard if the proper safety procedures aren't followed.
Burglaries and Break-ins – Summer is a great time to go on vacation. Unfortunately, burglars know this, and that's why crimes like these are more common in June, July, and August. Prevent a break-in by following these safety tips. You should also check to make sure that your home insurance is ready for a claim – just in case.
For more information on how to avoid claims like the ones listed above, make sure that you check our blogs regularly. And if you're interested in getting a Massachusetts insurance quote, just call 617-298-0655 to speak to one of our friendly and knowledgeable agents.