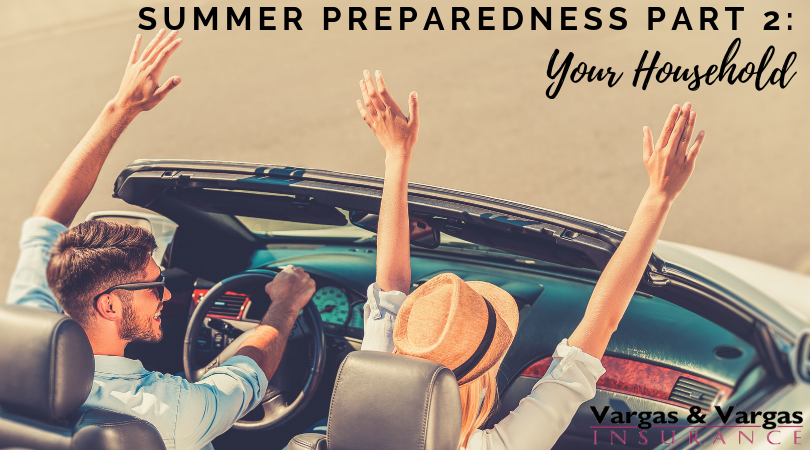 Bags are packed; the car is loaded. And away we go!
What fun we'll have on our vacation.
Pump the brakes!
We don't want to be a party-pooper, but we want to remind you that while your home is unattended, if something goes wrong while you're away, you'll be in for an unpleasant surprise upon your return.
Prepare your house while preparing for vacation. Create a checklist and check off these important items before you leave the house.
Plumbing
It's always useful when doing a plumbing inspection to run all the faucets in your home at the same time. Flush all the toilets and work your way from the bottom (basement) of your house up to the top floor(s) checking pipes and surrounding areas.

Close valves and turn off water supplies to the entire house or to your least-used pipes, such as to the washing machine and water heater.

Consider also turning your water heater to "low" or "vacation" mode.
Why burn up fuel heating water you're not using while you're away from home? Check drains for clear drainage to prevent any backups from unexpected water surges, especially your storm drains.
A quick inspection of all pipes and plumbing systems alerts you to any potential problems. Do a quick check for leaks, the kind of small leaks you might be missing during your normal day-to-day living, but the kind of small leak that could become a big leak while you're away.
Electrical
Unplug extension cords. Unplug appliances.
Storms can cause electrical surges that can damage your connected appliances, or worse, cause a fire. Also, look for loose wall plates, loose plugs or any other potential hazard that could create an electrical event and maybe a fire.
Air quality
How's the air in your home? Is there any chance that dampness in the air could create a mold condition while you're away? Are all the windows closed?
If you have a dehumidifier, set it up in strategic locations around the house in the weeks before your vacation.

Thermostat
Set the thermostat to a temperature, hot or cold depending on time of year, that doesn't use unnecessary energy while you're away.
Technology
There are smart home devices including security units you can quickly and easily install to help protect your home from interior and exterior threats while you're away.
Smart locks, home monitoring systems, and apps for your smartphones that allow you to monitor your home from the beach hundreds of miles away are all worthy investments for your holiday peace of mind.
Mail
With a quick visit to your local post office to fill out of a simple form, your mail is held by the Postal Carrier until after your return from vacation. If you get newspaper delivery, notify your carrier of your pending holiday to hold deliveries while you're away. Piles of mail and newspaper deliveries attracts vagrants and burglars.
When was the last time you reviewed your insurance? Don't wait until it's too late. Call now at 617-298-0655 or text us at 617-409-0329 for a free, no-obligation annual review. Click here to Visit our Contact Us page.