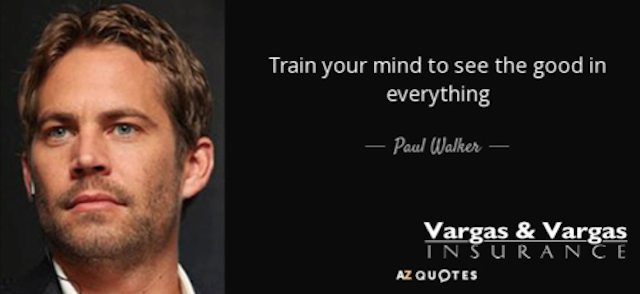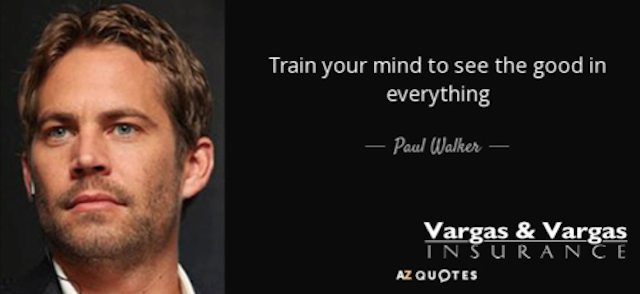 Happy May Day!
As you know, I like to start every week with some words of wisdom,
"Train your brain to see the good in everything." -Paul Walker
I am writing this newsletter at the Stoughton House of Brews, enjoying some of their dark roast coffee and one of their amazing breakfast sandwiches.  I am meeting a real estate agent friend here who is in need of a little "one on one" training on social media (I can also help you, leave a reply below and we can meet for coffee, maybe here?). If you are ever in Stoughton square and looking for a great place for a coffee (or locally brewed beer, later in the day, of course :-)), you should not pass this great local business up!
Many of us may have heard of the importance of positivity, but few can really tell why it's important.
So, it's really important to think positive. But… how?
Thousands of more articles online teach us how to think positive in the most clichéd ways possible. You should cheer up, crack a smile, look on the bright side of life… blah, blah, blah…
Don't worry! The tips you are going to see below are nothing like those. I hope to offer some practical and specific tips for you to start making REAL changes.
Start with decluttering your life
Get rid of all of the distraction, interruption and clutter that is keeping you from your 'one thing", whatever that may be. Getting rid of the clutter that goes on in our brains, and that occupies our thoughts. Maybe it's a relationship issues or something out of your control. It's critical to let go of the nagging thoughts and emotions, especially those that we can do nothing about, and even the ones that we can control (like emailing, texting, telephone calls, or spending the day on Facebook).
Instead of letting yourself get distracted by this clutter, set up a schedule to take care of these tasks. I have created a schedule template that I will send it to you, totally FREE if you leave me a message below asking me to do so.
Sit up straight! It's more than etiquette
While one may think cultivation of positivity always requires conscious effort, in truth it doesn't.
Sitting up straight may appear irrelevant to positivity, but a study reveals the association between posture and positive thoughts. The result shows that people are more likely to generate positive thoughts and recall positive memories when they are sitting up straight.
So, sit up straight right now! Sometimes tiny things in life all contribute to our well-being without us noticing.
Instead of news, read something uplifting in the morning
It is common to watch morning news reports to keep up to date on the latest news. While it is good not to block ourselves off the outside world, it is important to ask yourself – What is the news mostly about?
In a typical morning, you will see a lot of the same – car crash, terrorist attack, natural disaster. All sorts of disheartening incidents.
I am not trying to suggest a complete break from keeping up on current events, just that you devote part of your morning to something more uplifting in nature.
For example, you could start a Daily Confidence Programming habit. Instead of reading or watching the news, begin the day by reading a chapter of an empowering book. We can also go for our favorite spiritually boosting and inspirational materials. I prefer to start my morning with positive affirmations as my friend Michael Maher teaches.
List 3 things you're grateful for every day
It is simple and easy to do. Try to list at least 3 things you are grateful for every day. In the end, we won't realize how much it helps us. Researches reveal a multitude of benefits in expressing gratitude on a daily basis. Being grateful is associated with our well-being. It can also improve relationships and help with emotional maturity. Gratitude can simply promote happiness.
It's true that we can always find dissatisfaction in life. Same to satisfaction. Half-filled and half-empty glass.
If it seems like there's nothing to be thankful for in your life, go back to the basics. You are still alive, right? You are still living in this world of mystery and amazement. You still have lots to explore. There's nothing to mourn on.
There are always angels and devils in our brains. While we are usually the devil's advocate, try to stand on the angel's side now.
Celebrate your small wins every day
One easy way to start cultivating our positivity is to write down our small wins on a daily basis. And research has reassured the potential benefits of doing so.
Progress is a lot more than just a step closer to success, as Amabile and Kramer suggest. In fact, if we properly record our progress, no matter how small it is, we instantly receive a confidence boost!
I write every task on a daily list and cross them off as I complete the tasks (I sometimes even add a task after it's been completed to cross it off!)
So, even though we tend to remember negative events more than positive ones, it is important to practice mind over matter. Focus each and every day on being the best version of yourself, and remark on the progress and the small wins that you accomplish. Before too long, positivity will be a habit, and it's an important one to have as someone that seeks out success!
If you have any additional positivity tips that you use in your life, I would love to hear them! Just leave me a reply below and tell me what you do to keep yourself looking on the bright side day after day.
And, know that you are LOVED!
Carlos
Read More