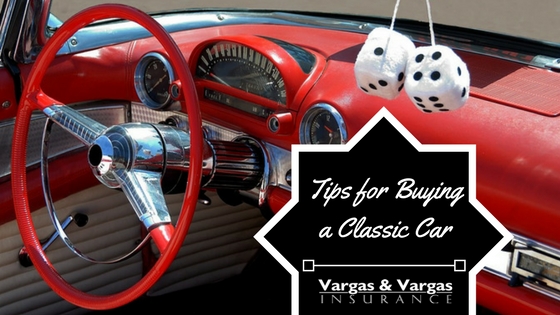 Spring is here, and if you are like some people, you may be thinking about looking into purchasing a classic or antique automobile. When it comes to cars, they just don't make 'em like they used to. Sure, modern cars have rear-view cameras, Bluetooth, and a million other snazzy features. But for some old souls, there's nothing quite like a leisurely drive in a classic car. I've done some homework, and hope that you may find these tips for buying a classic car useful!
Do a Thorough Check for Rust – Many classic car experts have one firm rule – don't buy rusty cars. A few small spots are easily fixed, but any signs of 'the brown stuff' under the car, inside fenders, and under doors should be a red flag.
Perform a VIN Number Check – It's getting harder and harder to find a number matching car. If you can find one, it may be worth more. On the other hand, pointing out that a car's numbers don't match could be a good point of negotiation if you're still willing to buy.
Weigh the Mileage Numbers – Classic cars are all used, but they are not all created equal. Some buyers will only consider low-mileage classics, while others are okay with higher mileage vehicles (as long as the price tag reflects the increased use).
Be Patient – If you're in the market for a classic vehicle, don't jump at the first car you like. Wait for a car that you can't live without. After all, this should be considered an investment – there are plenty of great fish in the sea if you're willing to cast your line and wait a while.
Get an Insurance Quote – We can help you with a quote on your new Classic Car, or your current Classic car. Just give us a call 617-298-0655 to get a quote on Massachusetts insurance for the classic car of truck you're considering.
Watch the video here.
I would LOVE to know your thoughts if you own a classic or antique car (or have additional tips) leave a message below.
Carlos