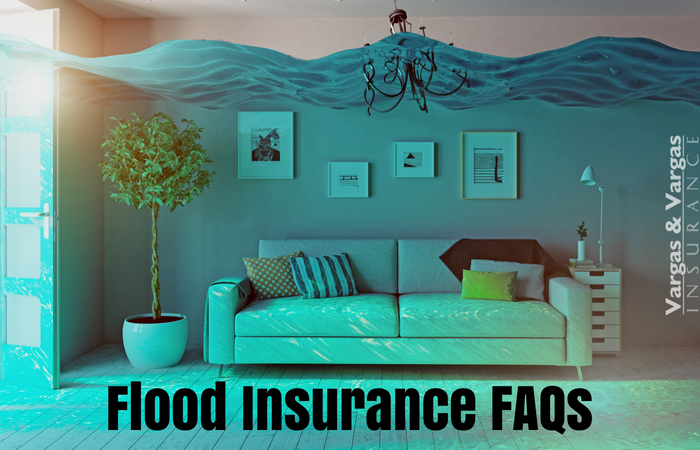 Now that hurricane season is in full swing, the agents here at Vargas and Vargas Insurance Agency are getting a lot of questions about coverage for their homes and other possessions. One of the biggest tips that we have for our clients is to consider purchasing a flood insurance policy, because it will cover some instances that a home insurance policy alone will not.
In an effort to help our customers understand the importance of flood insurance and to outline some of the basic information about the policy, here are answers to some of our most frequently asked flood insurance questions:
What is a Flood?
Ok, this may seem like a silly question at first, but how your insurance policies define 'flood' will play a huge factor in determining whether you are covered for a loss. While insurance providers may differ slightly in their definition, most agree that to be a flood, waters must cover at least two square acres of normally dry land and/or affect at least two properties. When you purchase your flood insurance policy, ask your agent the specifics on what your insurance provider considers a flood so that you can know for the future.
Does my home insurance cover flood damage?
No! Home insurance policies often have a strict set of coverage exclusions, one of which is damage due to flooding. If you want to be covered for this potential peril, you will need an additional flood insurance policy for your home. Thankfully, your home insurance will likely cover damages due to hail and wind, which is not a part of a Massachusetts flood insurance policy.
Do I need flood insurance if I don't live near water?
Floods are the product of many different situations. It's not just torrential rainstorms that causes flooding. Flooding can also occur because of hurricanes, water backups, and even melting snow. Did you know that your home is more likely to be affected by a flood than by a fire? In fact, it has been estimated that over $2 billion of damage is caused by flooding each year in the US.
What is a flood zone?
A flood zone is an area that has been evaluated for its flood risk, and its designation will affect your flood insurance premium. Properties in Zone A are high risk, Zone B is moderate risk, and Zone C is low risk. The higher your risk for floods, the higher your flood insurance premium will likely be.
If there is a flood, won't I be covered by federal disaster assistance?
It is a possibility that federal disaster coverage may be available, but only if the President declares a disaster, but over 90% of disasters are not declared. Plus, even if you receive federal disaster coverage it is a loan that you would have to repay, but flood insurance will cover you without you having to repay any of the amount paid out for your claim.
How will my flood insurance premium be calculated?
There are many factors that will be considered when insurance providers determine your premium. These include (but are not limited to) the amount and type of coverage you are purchasing, the location and flood zone of the property being insured, as well as the age of the building.
How much does flood insurance cost?
A flood insurance policy will probably be more affordable than you expect! For a low premium payment, you can get a lot of coverage to protect your property from flood damage.
Are flood insurance discounts available?
It is a possibility that you could receive a discount on your flood insurance premium. For more information on whether you qualify for a flood insurance discount, speak with your Massachusetts insurance agent from Vargas and Vargas Insurance Agency. They will be able to check to see if there are any applicable savings.
When will my policy go into effect?
For most flood insurance policies, there is a 30-day waiting period before the policy goes into effect. This means that you can't wait until the last minute to purchase a flood insurance policy if a hurricane or other big storm is heading toward Massachusetts! There are a few exceptions to this rule, including a change in the building's flood zone, and when there is a renewed mortgage on the property.
How do I get a quote?
Getting a quote is always easy with Vargas and Vargas Insurance Agency! There are several ways that you can get in touch with a Boston insurance agent to talk about your coverage – fill out our online quote form, email us, or call our office at 617-298-0655. Someone can answer all of your coverage questions and get you the policy you need with minimal hassle. And remember, our quotes are always free, and we search many different insurance providers to make sure that you are getting the best possible deal on your insurance coverage.