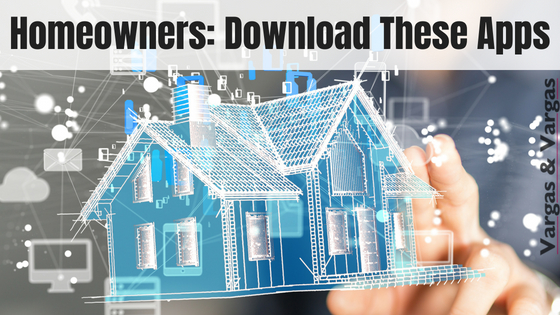 Owning a home is the American Dream – but just like anything in life that is rewarding, it comes with its fair share of challenges. Thankfully, in this day and age… "There's an app for that!" Or several, as the case may be.
Many of our clients are on the lookout for ways that technology can improve their everyday lives. Did you know that there are several apps available for your smart-devices that can make owning a home easier? We have collected just a few examples of these apps for our customers that are looking to bring home ownership into the digital age. So, which of the following apps will you download first?
LetGo
Have you ever felt that you have too much junk in your home? Don't worry, you're not alone! Thankfully, one man's trash is another man's treasure. Find someone that will pay for the stuff you no longer want with the LetGo app on Android or iPhone.
Bubble Level
How many times as a homeowner have you wished that you could have a level without needing to make a trip to your toolbox? Did you know that your phone can be used as a level? With the Bubble Level app, you never need to say that a picture looks 'good enough' when you hang it – just pull out your phone and get the job done perfectly every time! The app can also be used as an AR ruler and can find wires inside your walls!
Google Maps
Want an idea for something to do, or maybe you feel like trying out a new restaurant? There is no resource for finding places in your area quite like Google Maps. Just search for what you're looking for, and it will give you several options, along with reviews and directions. Download it on the Google Play store or the Apple App Store if you don't already have it!
Centriq
Homeownership in the past meant having a drawer full of user manuals for every appliance you had ever owned. Now, though, you can use the Centriq app to keep everything in one (digital!) place. Add your appliances by taking a photo of their nameplate and the app will catalogue the item, as well as its user manual. It will alert you to any product recalls, and even help you find replacement parts and will show you troubleshooting videos if you have an issue with your items.
Planner 5D
Thinking about redecorating? Did you know that you can use your phone's Virtual Reality capabilities to help you picture what the rooms in your home could look like with some new furniture or a fresh coat of paint? Download Planner 5D on your Android Phone and start making virtual changes. See what works in your space before you spend any money!
HomeSavvy
Android and Apple users will have an organized home maintenance schedule if they download and use the HomeSavvy app. Just answer a few questions about your home (like "Do you have a pool?") and HomeSavvy will create a home maintenance schedule for you to follow. You can even schedule reminders and get tips on how to best complete your tasks, or even get recommendations for local professionals that you can hire!
Chore Pad
Chore wheels and charts are a thing of the past thanks to Chore Pad. Your kids will love getting to check off their chores on their favorite device, and you can even set rewards for kids as they earn stars. According to their website, "Chore Pad helps you teach your child responsibility in a way that is fun and engaging." Just be aware that this app isn't free – but it could be well worth the price if it gets your kids to do their chores!
Remember the Milk
When you own a home in Massachusetts, there is a lot on your mind. Wouldn't it be helpful to have an app that could help you remember all the things that you need to do? That's where this "Smart to-do App" comes in! As the name implies, it is the perfect place to create a grocery list! It is also good for personal and professional use. Remind yourself to make an important phone call, pick up your kids from practice, or write a performance review for work. The app syncs among many platforms, and can even be shared between connected users, making it a great place for your 'honey-do' list.
And there's one more thing that your phone can do – help you get an insurance policy for your home! Instead of downloading an app, open your dialer and type in 617-298-0655 – the phone number for Vargas and Vargas Insurance Agency. We can give you a little bit of human help to ensure that your home is fully protected, and that your insurance rates aren't through the roof.