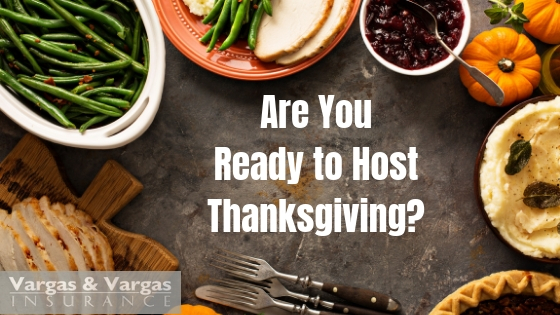 Thanksgiving is a time for celebration. No two families Thanksgiving festivities are the same, but most consist of some combination of good food and the joy of togetherness. If you're hosting Thanksgiving dinner for your family (whether that means two or two hundred people) you want it to be perfect. Here are some tips from the Vargas and Vargas Insurance staff on some of the best ways to make Thanksgiving 2018 the best one yet.
Start Preparations Now
Thanksgiving may be more than two weeks away, but that is no excuse for not preparing as much as you can in advance! The most important thing you need to do is make two lists: your guest list and your shopping list.
Choosing your guests can mean the difference between an intimate affair and a huge gathering. When you invite everyone, let them know when you would like to know whether they will commit to coming for dinner – after all, you will need to know how much food to have on hand!
When you choose the dishes you will make, you will need to consider a few things, including what you will ask your guests to bring (if anything) and whether there will be anyone with dietary restrictions or severe food allergies present. Otherwise, you will need to ensure that you have a wide variety of dishes that will please all palates. Many people choose to do a variety of plates with a mix of both traditional dishes and new additions to the Thanksgiving table.
Review Food Safety Tips
Before you even think about dealing with food this Thanksgiving, consider reviewing the basics of food safety – after all, you will be responsible for the continued health of all the people that you host, and the last thing you want is for your guests to get food poisoning!
Thaw the Turkey!
Don't forget that if you purchase a frozen turkey, you will need to let it thaw fully prior to cooking. According to Butterball's website, there are two ways to do this. The first is by submerging the wrapped turkey in cold water for 30 minutes per pound of weight. The second is to put the turkey into the fridge ahead of Thanksgiving Day, allowing 1 day of thawing for every 4 pounds of weight.
"Make and Freeze" Foods
Once you have all your recipes picked out and the shopping is done, it's time to figure out how much of the Thanksgiving meal that you can make ahead of time. You might be surprised at how many things can be made a day or more ahead and then frozen. And they taste just the same when reheated as they did when they were fresh.
Foods that can be made ahead include rolls and even mashed potatoes and gravy. While you're at it, remember that many ingredients can be chopped and measured ahead of time (think the celery for your stuffing) or made the day before and left on the counter overnight (pumpkin pie).
Before Guests Arrive
When the big day arrives, you've undoubtedly got a lot to do. Enlist some help if you can to check the following non-cooking activities off your list. First, make sure that your home (including the walkways outside) are well-lit and free of tripping hazards. You should also make sure that anything fragile is put out of sight, especially if you will have young kids around.
During the Gathering
Oftentimes, hosting Thanksgiving means much more than just serving a meal. People tend to come and hang out for most of the day, so you will need to provide them with entertainment. In addition to putting on some festive music and/or turning on the obligatory football game (the Patriots don't play until Sunday, but the three Thursday games won't disappoint), you can also break out family-friendly Thanksgiving-themed games and activities.
After-Party Cleanup
All your guests may have left, but the party isn't over! You probably still have some cleaning up to do – after all, Thanksgiving tends to be a very messy holiday, especially in the kitchen. Instead of using excessive elbow grease, let tough dishes soak while you do other tasks like taking out the garbage and wiping down the table.
Do you have any more Thanksgiving tips that we missed? Leave a comment and tell us – we would love to hear your cheats, hacks, and secrets for hosting. And, as always, remember that Vargas and Vargas Insurance Agency has all the secrets for the best home insurance in Boston. Call 617-298-0655 before Thanksgiving to make sure that your Massachusetts home insurance policy is ready to protect you and all your guests this holiday season.
Take the time now to do one more thing in preparation for the holidays: program the Vargas and Vargas Insurance 24/7 emergency line into your phone. It is 617-322-5289, and it is the best way to begin an insurance claim outside of our office hours.