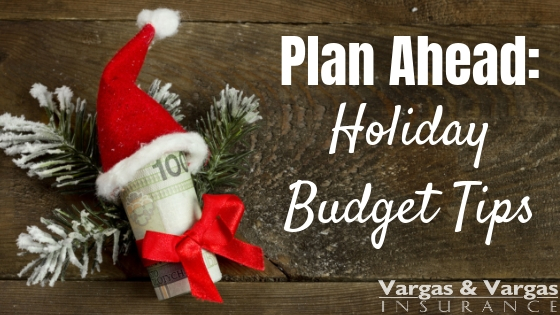 It may only be October, but now is the time to start thinking about your end-of-the-year holiday budget. Most Vargas and Vargas Insurance customers that we talk to agree – the holiday season is an expensive time of year (let's face it – the festivity and merriment don't come cheap!) Before you even think about picking out the best-looking turkey for Thanksgiving, pick up a pencil and make out a quick budget for the rest of 2018. It doesn't have to be perfect – any sort of guideline can help make sure that you start the New Year in the black.
Our agency wants to do our part to help! Here are just a few of the categories that you may want to include in your budget, along with a few ways that you can get more bang for your buck this winter:
Holiday Décor
Part of the fun of the holiday season is the festivity and merriment that accompanies it. If you're one to "deck the halls" then you probably already have most of the decorations that you use every year in storage. Occasionally, though, something will need to be replaced.
Do yourself a favor and save money on the replacement by using the old item one more time (if you can, of course) and purchasing the replacement on a deep discount after the holidays are over.
Food and Entertaining
During the holiday season, many people throw holiday parties or host family events. Whether you are hosting or attending these events, you will need to budget some money for them. Hosting can be costly, but you can cut down on your spending by asking attendees to bring a dish to contribute to the table or buffet – sides and desserts are easy for others to make and bring.
If you are attending an event, offer to bring something to help the host. You could bring food, but alcohol and other hostess gifts may also be appropriate. Many local shops in the Boston area offer a great selection of items that would be perfect to bring to a party.
Travel
Around this time of year, many people are making plans to visit their loved ones. Whether you're going to be there to eat turkey or open presents, you should start making your plans now so that you don't get stuck paying last-minute prices.
Depending on how far you need to travel and how many people are going with you, taking a road trip may be a cheaper option than flying. Check out our Ultimate Guide to Road Tripping for tips and tricks to travelling by land. If you don't have the time to travel by car, then flying is your best option. Buy your plane tickets as early as possible to get the best deal and remember when comparing prices to include the cost of extra fees and baggage to your total cost.
Gifts
If you're someone that purchases gifts during the holidays, plan now so that you don't overspend later. Make a list of everyone that you plan to gift to, and how much you will spend. Be as thorough with your list as possible – include family members and friends, as well as neighbors, teachers, your mailman… anyone who will get a present, even if it's only going to be $10 or less.
When it comes to saving money on gifts, there are many options. For the brave, consider shopping during Black Friday sales to get great gifts at blowout prices. Some people may find Black Friday shopping a little too harrowing of an experience. If that sounds like you, (and you have even a little bit of creative capability) consider making your gifts this year. Often, DIY gifts are less expensive than store-bought, and they can hold extra meaning to the recipient.
As you budget for gifts, remember to also factor in the cost of cards and wrapping paper and bows. These are costly right before the holidays, but you can save money for next year's presents by purchasing card multi-packs and wrapping paper on clearance and storing it with the rest of your decorations.
Once your holiday budget is complete, do your future self a favor. Take your estimated expenditure amount from this year and divide it by 12. Then you can set up an automatic deposit for that amount into a holiday savings account each month. By this time next year, you won't have to worry about scrambling to find funds – you will have a lump sum ready to go for all your end of the year spending!
Remember – you can save money on your Massachusetts insurance policies all year 'round with the help of Vargas and Vargas Insurance Agency. One call to 617-298-0655 and our agents will work hard to make sure that you have home and auto insurance policies that will give you the right amount of coverage without overburdening your bank account.