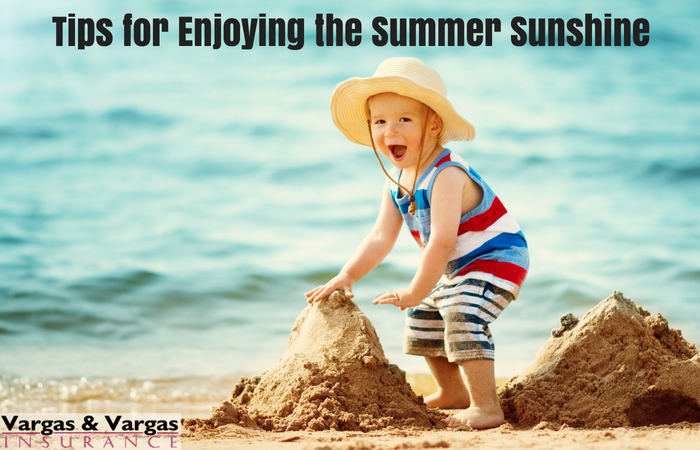 At Vargas and Vargas Insurance Agency, we want to make sure that our clients and friends make the most of the city that we live in while also being as safe as possible. After all, our number one goal is to make sure that you are protected, both through insurance and otherwise. Nowadays, many of you will be spending time outdoors with your families and friends, so we have gathered some tips to help you practice sun safety. Fun in the sun is great, but we want to make sure that it doesn't haunt you later in life.
The Importance of Sunscreen
Sunscreen is one of the best ways you can protect yourself from the sun's harmful UV rays. Using sunscreen when you're at the beach or the pool (or any day that you're going to be spending more than a few minutes outdoors) can help prevent certain types of skin cancer.
When choosing a sunscreen, make sure that you take note of their SPF – Sun Protection Factor. The SPF measures the fraction of UV rays that reach the skin, so in SPF 25 sunblock, 1/25 (4%) of UV rays reach the skin. When wearing sunscreen, it is important to reapply the lotion or spray as directed, typically every two hours.
When You're in the Sun
In addition to applying sunscreen, there are other things that you should do when spending time outdoors to ensure that you stay healthy and protect your skin:
Sunblock is effective against the sun's harmful rays but cannot protect your eyes. Wear sunglasses that block UV light whenever you are outside, including in the car.
Your face is hard to fully protect with sunscreen, so consider adding an extra layer of protection with a hat. Make sure to choose something with a brim that blocks the sun from your face.
The best way to protect skin from the sun is to cover it. It may seem illogical in the heat but covering up with a shirt and pants can prevent sunburn.
When you are spending the day outside (whether at the beach, pool, park, or otherwise) take regular breaks in the shade to cool down. Also try to avoid the time of day when the sun is strongest, typically between 10 am and 4 pm.
When you and your family are out playing in the outdoors, make sure that you stay hydrated. It's easy to forget to drink, but it's imperative – especially in warmer temperatures.
Follow these tips and you will be much less likely to suffer from a sunburn. Unfortunately burns will still occasionally happen. If they do, continue reading to find out what you can do to treat a sunburn.
Treating Sunburns
If you or a loved one is afflicted with a sunburn, there are a few things that you can do to help. Apply a cool wet compress to the affected area or take a cool bath. Aloe vera gel is helpful and is available in most drugstores. Taking a pain reliever like ibuprofen or acetaminophen can also help.
To relieve itching, use moisturizing cream or hydrocortisone cream. If a sunburn blisters do not scratch or pick at them – it could cause the blister to get infected. For serious burns, or if you suspect infection see a doctor right away.
Early Signs of Skin Cancer
Checking yourself for potential signs of skin cancer only takes a few minutes, and it is very easy. Every month, look at your entire body (you will need a mirror) and notice your moles – you are looking for the "ABCDE"s, as follows:
A – Asymmetry: Moles should be symmetrical. If you were to draw a line down the middle and the sides wouldn't match, that could be a red flag.
B – Border: "Good" moles usually have smooth and even borders. If you spot a mole with an uneven border, have it checked.
C – Color: Moles with a variety of colors can be a warning sign: healthy moles are often one even color, specifically a shade of tan, brown, or black. Moles that are white, red, or blue should also be checked.
D – Diameter: Nearly everyone has small moles, but larger moles might cause an issue. Moles larger than ¼ inch in diameter (about the size of a standard pencil's eraser) might be malignant.
E – Evolution: If a mole changes in any way, have it looked at by a doctor. This could be a change in size or color, or a mole that starts to bleed or itch.
Also look for "Ugly Ducklings," the name given to moles that don't fit in with their surrounding skin and markings.
Every member of your family should do this. Make sure that you help younger children and teach them about the importance of proper skin care. If you notice any abnormalities, talk to a doctor right away.
For more tips to ensure that your fun time is both enjoyable and safe, stay tuned to the Vargas and Vargas Insurance blog. We love to share useful tips and insurance content that will keep you coming back for more. We also want you to know that our agents are always available to help you with your Massachusetts insurance needs. Just call 617-298-0655 the next time you have a question or need an insurance quote for your home, car, business, and more.