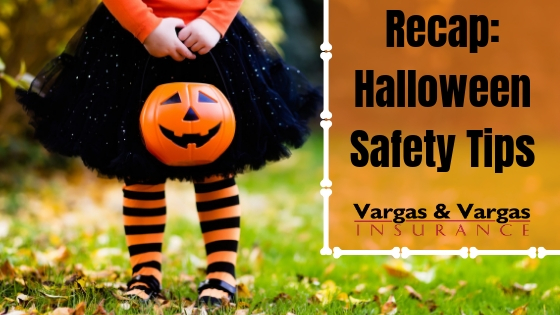 Did you know that there are only a few weeks left before Halloween? Are you and your family prepared? Make the most of the spookiest holiday of the year by following the safety tips from last week's full blog post. Here is a quick summary for your convenience:
When you decorate, make sure that you are making your home spooky without creating tripping hazards. When choosing lighting, opt for battery powered flickering lights over candles.
Pumpkin carving should be reserved for kids that can handle sharp objects. Little ones can use paint or stickers on their pumpkins!
When passing out candy, always give treats bought at the store instead of homemade confections.
Trick-or-Treating can be dangerous, so make sure that kids are wearing safe costumes and comfortable shoes. Be careful driving around on Halloween night, and always check candy for tampering before eating it.
At Vargas and Vargas Insurance Agency, we always have a blast celebrating Halloween in the office. This October, we would also enjoy helping you lower your insurance premiums. Just call our office at 617-298-0655 to speak with one of our Massachusetts insurance agents about how we can help avoid potential frights from the unknown with our top of the line insurance protection.