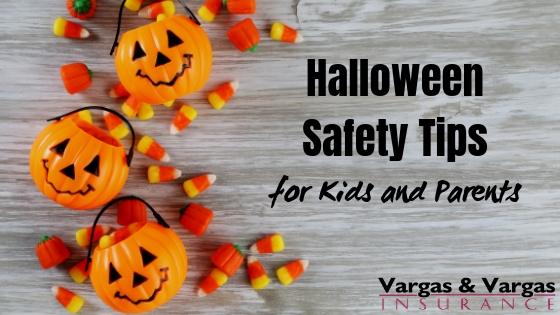 The temperatures are steadily dropping, and that can only mean one thing here in Massachusetts – Halloween is just around the corner! It's the time of year when you can let your spooky side shine… not to mention plan a costume that will knock everyone's socks off. As October progresses, though, make sure that you follow these safety tips to make sure that you and your kids have a successful fright night!
Decorating Your Home
Some people like to go over the top when decorating the outside of their home for Halloween. We encourage you to get in the spirit, but follow a few simple guidelines:
Remove or clearly mark tripping hazards – Trick-or-Treaters will be coming up your walkway, so either remove obstacles or make sure that they are easily seen and avoided.
Light up paths – Some visitors will be wearing awkward costumes, so make sure that they can see where they're stepping.
Don't use real flames – There is something extra spooky about a flickering flame, but instead of using a real candle and risking a fire, opt for a battery-operated flickering light.
Be careful with extension cords – You may have lots of decorations that require power. Lights and inflatables are very popular nowadays but resist the urge to overload your extension cords and power strips.
Carving a Pumpkin
Will you be making a Jack-o-Lantern with your kids this year? For kids old enough to carve a pumpkin, make sure to use carving tools meant for pumpkins instead of sharper kitchen knives. Encourage kids to go slowly as they carve in the interest of safety and tell them to cut away from their bodies. In case there is a minor injury, have a first aid kit close by.
Kids that are too young to carve don't have to miss out on the fun. Instead of making a carved pumpkin, break out the paints and stickers and let them decorate in an age-appropriate way.
Throwing a Party
Getting together with friends for a costume party is a fun thing to do this time of year. If you are hosting, there are a few things you should do to make sure that your guests can enjoy themselves without compromising their safety.
As you plan your party, make sure that your decorations are safe for guests. As we mentioned earlier as we talked about outdoor decorations, indoor décor should also not be a tripping hazard. Also, don't overload poser strips or use real flames, and opt for flickering battery-operated lights over open flames. In addition, when you choose your costume make sure it is something that you can wear and still play host.
Passing out Candy
If you're going to be staying at home on Halloween night and passing out candy to trick-or-treaters, make sure to do so in a safe way. You may have a killer recipe for a treat, but this isn't the time to use it – only pass out candies that are sealed by the manufacturer. Some children who come to your door may have severe allergies, so you may want to have a few small toys ready in case they are necessary. Display a teal pumpkin at your home to advertise that you have these non-food treats available.
For your own safety as you pass out treats, you may opt to sit with other neighbors. At the very least, make sure that you are looking through your peep hole whenever the doorbell rings (as you always should) – you can never be sure that there isn't a 'trick' on the other side of the door.
Trick-or-Treating
Going out trick-or-treating is a rite of passage for kids. As a parent, we know that you want your kid to have a great time while still being safe. Here are just a few tips that you should use to accomplish this goal:
Decide whether your child or children are mature enough to go out with friends without supervision. When in doubt, an adult should accompany them.
Some parents choose to drive their kids to a different neighborhood to trick-or-treat. If you will be driving on Halloween night, make sure to be exceptionally careful in residential areas after 5pm.
Edit kids costumes so that they can easily run around in them for an hour or more. Encourage kids to wear comfortable shoes and to leave their masks at home. For added safety, give kids a small flashlight to carry.
Teens that go out on Halloween night without supervision should have a fully charged cell phone with them in case of emergencies.
Before you or your kids eat a treat, it should be checked for tampering.
Here's one thing that doesn't have to be scary this time of year: your insurance premiums! Call Vargas and Vargas Insurance Agency for a free insurance quote or checkup. Our agents would be happy to see if we can lower your home insurance, auto insurance, or other insurance premiums – and you don't even need to leave your house! Call 617-298-0655 whenever you have questions about your Massachusetts insurance policies.