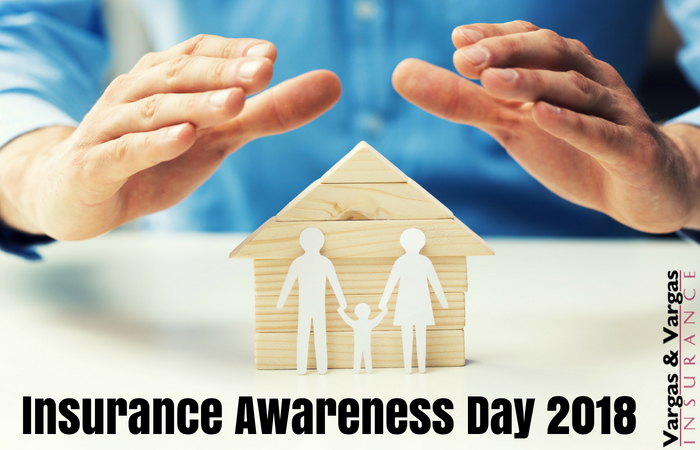 Throughout the year, there are many holidays to celebrate. Any given day seems to host at least a few different holidays. June alone has many – National Donut Day on the first Friday, Red Rose Day on the 12th, National Kissing Day on the 19th, Take Your Dog to Work Day on the Friday after Father's Day – and the list goes on. Our favorite here at the Vargas and Vargas Insurance office, though, is without a doubt June 28th – Insurance Awareness Day.
As an insurance agency in Greater Boston, we are always on a mission to make sure that our clients know how important it is to have proper insurance coverage for all of the valuable things in life – from your home to your car to your business, and even your health and life itself!
In honor of Insurance Awareness Day, we have a few ideas for things that our clients and their families can do to 'celebrate' this important holiday. If insurance is a part of your life, we encourage you to pick out one or a few of the items on this list, or even make your way through the whole thing!
Read Our Blog Archives
Vargas and Vargas Insurance Agency has been serving the Greater Boston area for many years, and we have been sharing a portion of our knowledge with you, our customers, through our blog posts. Take a moment and learn something about insurance by looking back onto our blog archive. We make it a point to post about our insurance expertise and about this great city that we call home. Hopefully you find something useful while perusing and visit the blog often for more updates.
Teach Your Kids About Insurance
In today's world, many kids graduate high school without knowing how insurance policies work! This is concerning, so on this Insurance Appreciation Day take the opportunity to teach your kids what insurance is, and why it is important to have. This can be done with kids of almost any age. Here is an article from Pocket Sense about how to do this in order to take one additional step toward preparing your children for their impending independence.
Review Your Insurance Policies
Your life is always changing. You go through new challenges as you get older. If you have children, they are maturing day by day. You need to make sure that your insurance policies reflect that change. That's why it is important to have a thorough insurance review at least once a year. Call your insurance agent and schedule a checkup for your home insurance, auto insurance, and any other insurance products that you carry. Ask about whether it's time to think about life insurance if you don't already have a policy.
Have a Little Insurance-Related Fun
"Insurance" and "fun" aren't words that are usually used in the same sentence. Insurance tends to have a reputation for being tedious and boring – but it doesn't have to be! Have some fun this year on Insurance Awareness Day and watch a movie, or at least a movie clip, with one of the world's most loveable insurance agents – Ned Ryerson!
Plenty of other movies also have an insurance plot or sub plot, including The Rainmaker, Memento, The Truman Show, Death of a Salesman, and even The Incredibles (the second is now in theaters).
There are also a multitude of insurance comics out there that you can enjoy and share with your friends. Here are just a few examples from the very funny Randy Glasbergen.
Share an Insurance Story
Do you have a story about how insurance has helped you? Whether you have filed a home or car insurance claim, or if health insurance has ever let you focus on recovery rather than medical bills, we want to hear! Post to the Vargas and Vargas Insurance Facebook page about why you love insurance, and if our agency has ever gone above and beyond to help you, we hope that you will leave a review and tell others about our great work!
Recommend Our Agency
Do you have a friend or family member who needs an insurance quote or review? It would be our pleasure to help them! Just send them a link to this blog post or give them our phone number (617-298-0655). Our Massachusetts insurance quotes are always free, and there is no obligation to buy!
So, how will you celebrate Insurance Awareness Day this year? It may not merit a label on your calendar, but you will be glad that you took a few minutes out of your day to do something in celebration, whether it is learning something or getting a review of your existing policies.
Remember, it's quick and easy to call your insurance agent for a free policy review, and you'll be glad you did if you end up needing to make a claim in the future!