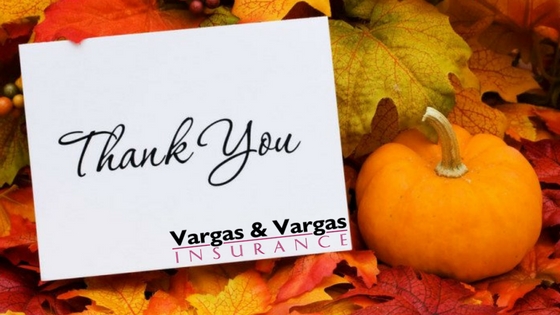 It's Thanksgiving Day, and rather than share a post about how you can save money or better use your insurance policies, we want to take today and share what we are thankful for most.
Our Clients
If you're reading this blog post, thank you. You are one of the many reasons that we are thankful at Vargas and Vargas Insurance this holiday season. It's because of you that we are able to offer great insurance products. We love being able to help you with your insurance quotes, questions, and concerns, and we look forward to maintaining a relationship with you for years to come.
Our Staff
In addition, we are thankful for our staff. We all love coming to work every day and have a blast being able to offer great insurance products to our customers. Helping the people in the Greater Boston area with their insurance needs is a fulfilling and rewarding job, and having such a caring and friendly staff makes Vargas and Vargas Insurance a great place to work.
What are you thankful for? It's important to participate in the tradition of giving thanks by sharing the things in your life that you appreciate. Make someone feel great this holiday by telling them how much they mean to you. And don't stop there – show your appreciation every day of the year. If there's someone here at Vargas and Vargas Insurance that you are thankful for, tell them on our Facebook page.
Happy Thanksgiving from our family to yours. With love from the Vargas and Vargas Insurance Agency.