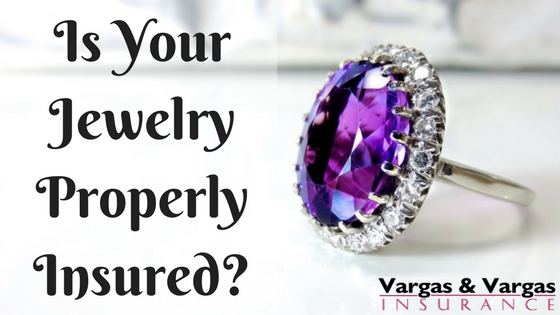 Everybody loves a little bit of bling. Whether your passion is precious metals, gemstones, hand crafted statement pieces, or any of the other dozens of types of jewelry out there, you need to make sure that your valuable items are properly covered – just in case. Thankfully, there are two coverages for your valuable jewelry, general coverage that comes with home and renter's insurance, and jewelry riders for additional protection.
General jewelry coverage is a part of almost every home insurance and renter's insurance policy that we offer here at Vargas and Vargas Insurance Agency. This will cover most casual, everyday jewelry. Check with your insurance agent to make sure that you have this basic coverage, and see how much coverage it offers.
If you have valuable items, you may want to check your insurance policy's coverage offered for theft and mysterious disappearance. There is often a limit on the general coverage that may be less than some of your more valuable items, like a family heirloom or your engagement and wedding rings. For these cases, you may want to inquire about adding protection in the form of a jewelry rider on to your existing insurance policy.
To speak to an experienced insurance professional, call Vargas and Vargas Insurance Agency at 617-298-0655. One of our agents can tell you if you have enough coverage, and will help you add a jewelry rider to your existing insurance policies if you need some extra protection. These are typically very inexpensive, and are well worth the coverage they offer. So, don't let your jewelry go uninsured or underinsured any longer – call us today!