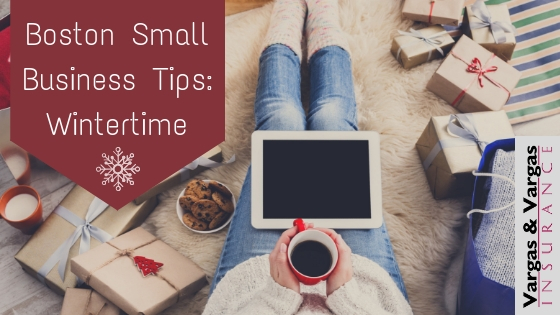 Time for "Fun in the Sun" may be over, but that doesn't mean that you can relax when it comes to your desire to make your business as great as it can be. Here at Vargas and Vargas Insurance Agency, we always say one thing: business owners should always be on (rather than just in) their business. Thankfully, now is the perfect time to cozy up with a blanket and a warm drink and figure out your business's path to success for the coming winter months.
Here are just a few winter small business tips that you can consider enacting:
Safety First for Employees and Customers
Winter brings its challenges, mostly in the forms of cold weather and snow and ice. When these are present in Massachusetts, make sure that your business does what it can to prevent employees and customers from feeling their effects.
In addition to turning on your heat to take the edge off the chill that could come in from outside, you should be proactive about snow and ice removal. This includes your parking area and walkways to and from the entrances of your building. In addition, place floor mats and wet floor signs in your entry ways to prevent slips and falls due to wet floors.
Avoid Flu Like the Plague
Winter weather is a sign of the emergence of flu season. Help your customers and employees stay healthy with the following tips:
Bathrooms should be filled with antibacterial soap and lots of paper towels.
Place hand sanitizer around the business, especially in break rooms and any place where money is handled.
Have the business cleaned (by employees or professionals) regularly. Make sure that disinfectant is being applied liberally.
If an employee does contract the flu, encourage them to stay home and get better, at least until they are no longer contagious – otherwise you will be dealing with an epidemic!
Take Advantage of the Holiday Gift Rush
Very soon, there will be lots of people in the area looking for gifts. If your business offers something worthy of gifting, make sure that you offer it. Stand out from the crowd by offering other perks like gift cards or free giftwrapping. Some businesses even go above and beyond in offering a gift to the customer with purchase. Ask yourself what you can do to stand apart from your competition. After all, people are going to be making purchases – why shouldn't they be from your business?
Counterbalance Off-Season Slowdowns
Often, businesses see a slowdown in the winter. This is totally normal, especially for restaurants and retail locations where people are less likely to visit because of the cold weather and hazardous conditions. You can offset these slower periods in a variety of ways.
First and foremost, you should be setting aside some of your summer cashflows for wintertime slumps. In addition, you can lower your winter expenses by reducing the number of employees working at once (if possible). You can also call us at Vargas and Vargas Insurance to see if you could save money on your business insurance policy.
Bring Your Business to New Customers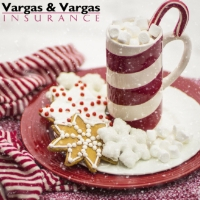 Do you ever wonder what you can do to get your business new customers? The number one reason that people aren't shopping at your business is because they haven't heard of you! Combat this problem by getting your business 'out there.' This time of year, there are plenty of events that you could be attending to spread the word about who you are and what you do.
Depending on your business's products, check out local Holiday fairs, wedding expos, trade shows, conferences, and more. There is bound to be some sort of event where you could set up a booth and increase the exposure for your business.
Enhance Your Social Media Presence
Winter blues got you in the mood to cuddle up on the couch with a hot beverage? Don't worry, you can still help your business from the comfort of your own home. Winter is the perfect season to start up a Social Media presence for your business. Depending on what you do and your customer base, you should consider Facebook, Twitter, Instagram, and Pinterest.
Once you get one (or more) of these Social Media pages up and running, set up an advertisement to people in your neighborhood. It's a very cost-effective way to spread the word about your business to local customers.
Another thing that you can do is start a blog on your business's website. This will work wonders in getting your business higher priority in Google searches – which is a key part of attracting younger clients to your business.
For more help as you work on your business, contact the small business insurance experts at Vargas and Vargas Insurance Agency. We can get your business a great Massachusetts commercial insurance policy that won't overburden your bottom line. Call 617-298-0655 to talk to one of our business insurance agents today.