According to the National Fire Protection Association, there are more than 360,000 home structure fires every year. Together, all of these fires cause between six and eight billion dollars worth of damage. Here at Vargas and Vargas Insurance Agency, we don't want any of our clients to be included in this pool of house fires, which is why we so often feature blogs about how to prevent home disasters and home insurance claims.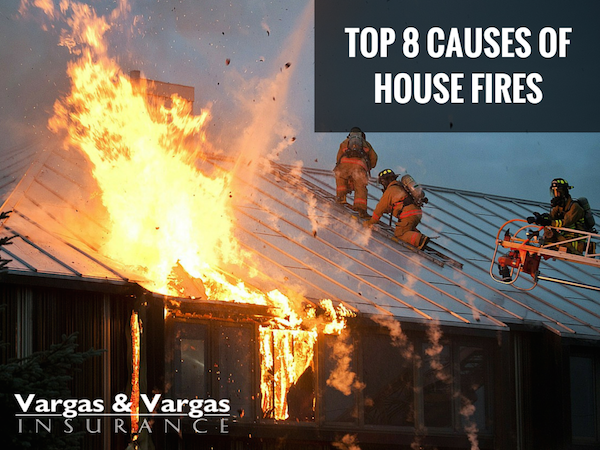 Today, our focus is on the top 8 causes of house fires, and what you can do to prevent your home from going up in flames due to these sources:
1. Candles and Flame – Never leave a candle burning unattended, and don't put a candle near any flammable object. If using a pillar candle, make sure that it is standing steady, and won't tip over. Also make sure that candles are thoroughly doused before leaving the room.
2. Cigars and Cigarettes – Smoke outside of your home, and always ash and snuff into wide and sturdy ashtrays so that live ashes don't fall onto flammable objects. Also never smoke when you're tired, or around medical oxygen tanks.
3. Electrical Equipment and Wiring – Never overload an outlet or extension cord. Make sure that you use the correct type of cords in different situations, and consider having a professional check your home's wiring annually. Also think about updating your wiring if you live in an older home with K&T wiring.
4. Washers and Dryers – Clean out your dryer's lint trap after every load. Dryers should vent to the outside of the home and nothing should block the pipe. The area around your washer and dryer should be free of flammable objects and combustibles.
5. Lightning – If there is a lightning storm, stay away from doors and windows. You should also unplug major electrical appliances like your television and computer during major storms.
6. Children – Keep matches and lighters out of the reach of young children, and begin teaching fire safety at a young age. Also ensure that children have adequate supervision at all times.
7. Christmas Decorations – If you have a live tree, make sure to keep it sufficiently watered, and get rid of it before it dries out. Always turn off all lights and other electrical decorations before leaving the room or going to bed. Also ensure that lights are safe and free of electrical issues before using them to light a tree or decorate your home.
8. Kitchen Appliances – Never leave cooking food unattended. Know how to handle a kitchen fire, including a grease fire and an oven fire. Don't wear clothing that is too loose when in the kitchen, and ensure that smoke detectors in the home are working and that a fire extinguisher is nearby.
Following all of these tips should help you to make sure that your home is at a decreased risk for a house fire, but remember that it's always important to prepare for the worst case scenario. Stay tuned to the Vargas and Vargas Insurance blog for a future piece about what to do if you are the victim of a house fire from the Boston home insurance experts, and make sure that you call 617-298-0655 if you need an insurance quote.