Can you believe that the first quarter of 2015 is drawing to an end? This year is flying by, and here at Vargas and Vargas Insurance Agency, we are preparing for the next portion of the year, where we plan to continue to impress our clients with our commitment to customer service and community outreach. As we continue to grow and improve our business, we hope that you will strive to continue improving and protecting your home with Boston home insurance through our agency.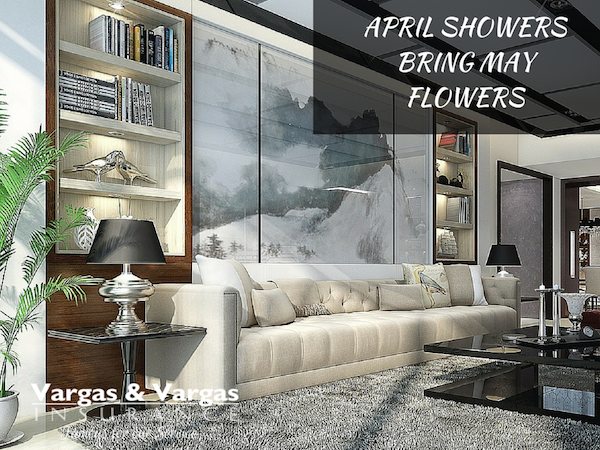 As March ends and April begins, there are a few housekeeping tasks that should be added to your 'To-Do' list. They concern the famed "April Showers" that seem to come every spring, preparing us for the blooming of May flowers and the summer heat.
Here are 7 Boston Home Insurance Tips for April Showers:
1. Before storms bring high winds and strong rain, make sure that the landscaping on your property is trimmed. Remove dead and loose branches from trees and bushes so that they do not go sailing through your property during a storm.
2. High winds are dangerous for more than just flying branches. If you know a storm is on the way, move patio furniture and other loose items inside so that they do not become projectiles.
3. When a thunderstorm approaches, go through your home and unplug any unnecessary electronics. This means that you should leave the fridge running, but devices like computers should be shut down until the storm passes.
4. One of the best ways to avoid water damage in the rainy season is to ensure that your gutters are clean and free of blockage. You should also check to make sure that the weather stripping on your doors and windows is airtight.
5. Check your roof for damaged or loose shingles, which is another leading cause of water damage. If you find any problem areas, make an appointment with a professional roofer to asses and fix the problem before it has the chance to get worse.
6. In case of a severe storm, have an emergency kit ready. Also ensure that your family has a communication plan in place for emergencies.
7. During storms, you and your family should take shelter in a sturdy building. Avoid getting too close to doors and windows until the storm passes. Some sources also advise to avoid contact with plumbing such as sinks and showers because plumbing can conduct electricity.
Performing all of these tasks will help to make sure that your home is ready for the upcoming April Showers. These storm will likely continue throughout the spring and summer, so make a note to occasionally re-check this list. Some of the items (like checking landscaping, clearing out gutters, and being aware of roof damage) should be done often to avoid damages. If a storm does damage to your home, make sure to contact your Boston home insurance agent right away to being the claim process.
Are there any more items on your spring 'To-Do' list? If so, let us know what you will be up to around the house on the Vargas and Vargas Insurance Facebook Page.