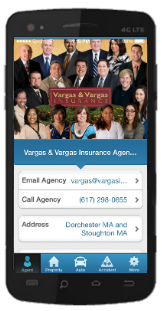 Nowadays, there is an app for everything – this is truer than ever now that the Vargas and Vargas Insurance Agency mobile application has launched! Here at Vargas and Vargas, we want to be there for you around the clock, and now we're one step closer – get the Vargas and Vargas app, and you will have Vargas and Vargas Insurance at your fingertips any time of the day or night. The app has several great features, including:
Mobile Access to Your Insurance Information
When you download the Vargas and Vargas Insurance app, you will always have your insurance information available. When you're on the go and need your proof of auto insurance or personal property coverage information, you can access that without even having to call. If you do need to call, we've still got you covered – the app will give you all of our contact information, and even links to our Social Media profiles. You can even find out when your next bill is due, all from your smartphone.
Auto Accident Help
Most people get a little frazzled when they get into a car accident. When you have the Vargas and Vargas Insurance app on your phone, though, you'll be prepared. Our app will help you get in touch with your agent, and can even help you gather the information that you will need in order to file an auto insurance claim with your cell phone!
A Home Inventory Tool
Your home or renters insurance policy likely covers the replacement cost of your belongings, but if a total loss were to occur, could you make a complete list of your possessions from memory? With a home inventory, you can have all of your belongings (along with their values and other information) on file with your insurance agency. Get the app today and start your home inventory to ensure peace of mind. Your inventory will be stored in the cloud, keeping it safe so that it will be there if you ever need it.
And Much More!
But wait! There's more – in addition to all of the great features listed above, the Vargas and Vargas Insurance mobile app will give you the ability to keep track of your IDs, call a tow truck, get you directions if you get lost, and can aid you in calling for help in an emergency. With all of these great features, it should be clear why you need to add our app to your smartphone. Read more on how to get the app below.
How to Get the App
Visit the App page on our website and fill out the box labeled "Request Our App!" on the right hand side of the page. You will receive an email with links to download the App from either the Apple App Store or the Google Play Store – it's that simple! In just a few short minutes, you could have all of these features and more at your fingertips, so don't delay. If you need assistance in getting the app, call our office at 617-298-0655 – one of our agents would be happy to walk you through the process step by step.