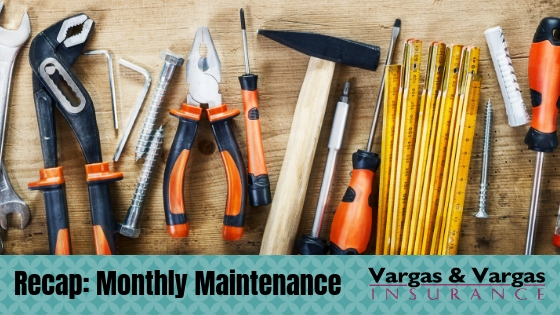 "Look at a day when you are supremely satisfied at the end. It's not a day when you lounge around doing nothing; it's when you've had everything to do, and you've done it."

– Margaret Thatcher
Taking care of your home can seem like a colossal task – but just like any big job, it is much easier to handle when broken into more manageable pieces. Consider, for example, the post on our blog from last week about a few simple monthly home maintenance tasks that you should have set on your schedule to keep your home running smoothly.
Check your HVAC filters and determine if they need to be replaced.
Clean your dish disposal in the kitchen by grinding a few vinegar ice cubes.
Use a combination of degreaser and hot water to soak your range hood's filter.
Ensure that your fire extinguisher has adequate pressure and is accessible.
Clean your sink aerators and shower heads with vinegar
If you ever need help with a home maintenance task, call a Boston professional! Here at Vargas and Vargas Insurance Agency, we know many qualified professionals in the area, and would be happy to provide you with a referral.
And to ensure that you will have a smooth recovery in case anything ever happens to your home, call Vargas and Vargas Insurance Agency at 617-298-0655 to talk about your home insurance policy. Having a great home insurance policy is crucial, and to make sure that your home insurance policy is up to date, you should talk to your insurance agent yearly to update it based on your changing needs.