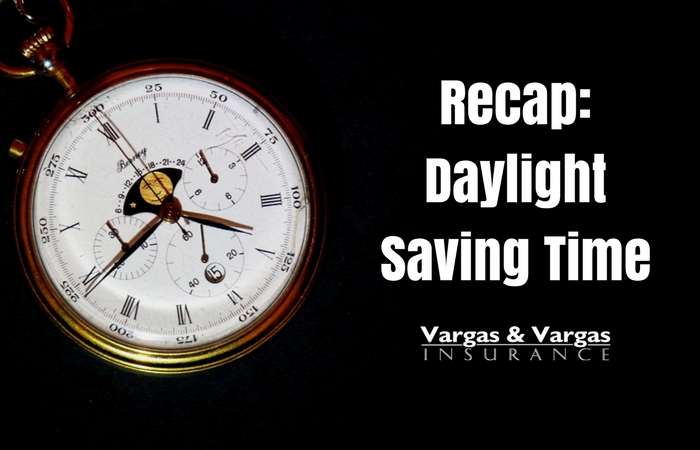 Daylight Saving Time started on Sunday, Match 11. Did you turn back your clocks? Here at Vargas and Vargas Insurance Agency, we have been enjoying the start of Summer Time, and look forward to having daylight further into the evening (and the temperature rise that will accompany it).
Did you take our suggestion to perform any home maintenance tasks while you were updating your clocks? If you need a quick reminder, here are some of the bi-annual tasks that we suggested:
Change the batteries in your smoke alarms and carbon monoxide detectors.
Test your home's security system.
Clean carpets and rugs, shower curtains, and your pantry and fridge.
Flip the mattresses in your home.
Restock your home's emergency kit according to the recommendations on Ready.gov.
And make sure that you check out the original Daylight Saving Time blog post for additional history and fun facts about DST that you can share with your family and friends.
We would love to heat about which of these chores you got checked off your list! And remember, Vargas and Vargas Insurance agents are always available to help with all of your insurance needs, whether it's Standard Time or Saving Time – just call our office at 617-298-0655 to speak with a Massachusetts insurance expert.