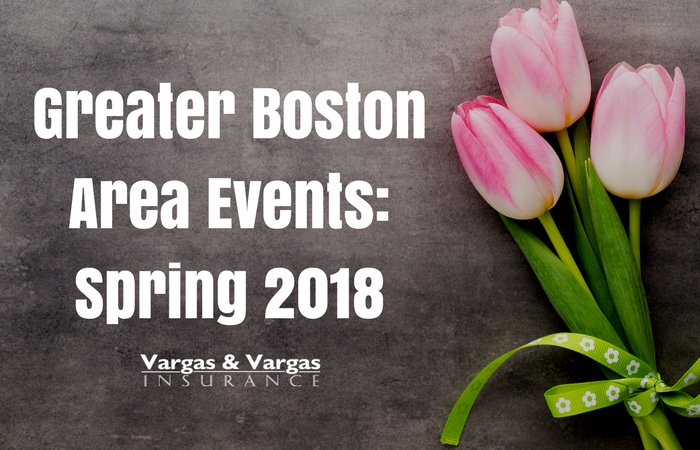 It may not feel like it based on the weather we've been having recently, but tomorrow, March 20, is the first official day of Spring. That means the cold weather will soon be a thing of the past (the employees here at the Vargas and Vargas Insurance offices are thrilled about that, to be sure) and you can look forward to taking place in many springtime activities here in the Greater Boston Area.
Take the time to add a few events and holidays to your calendar now! Here are just a few of the ones happening around town. Click on the name of the event for more helpful information.
So, which of these festivities will you and your family be taking part in? Wherever you go, keep an eye out for members of the Vargas and Vargas staff. We're always out and about, and we would love to say hello!
Remember to be safe when you go out, even if it's just for an afternoon. Make sure that someone knows where you are going, and has a way to contact you. You should make sure to have a fully charged cell phone, and a back-up ride home (even if it's a ride from Lyft or Uber). If you plan to drink, make sure that you do so responsibly, and that you have a designated driver.
If you're taking children out for a day trip, there are several safety tips you should know, including:
Make sure that your child knows their Name, Address, and an adult's Phone Number. It is also important to make sure that they know who to share this information with (security guards, police officers, teachers, etc).
Children should know how important it is to stay within eyesight when out and about. They should never walk off on their own.
If a child does get lost, they should find an appropriate person nearby to help. They should never leave the area or the building.
Before eating anything, your child should get your permission. As soon as they are old enough, teach them not to accept food from strangers. Food is an especially significant problem for children with severe allergies, so it's better to be safe than sorry.
Our friendly and knowledgeable insurance agents are also available to help with all of your insurance needs this Spring. If you need to clean up your insurance portfolio, make a call to Vargas and Vargas Insurance Agency at 617-298-0655. We are happy to help you check this 'to-do' off your list, and maybe even save you some money on your insurance policies in the process! Also stay tuned to our insurance blog this Spring for more helpful tips about insurance, safety tips, and much more.