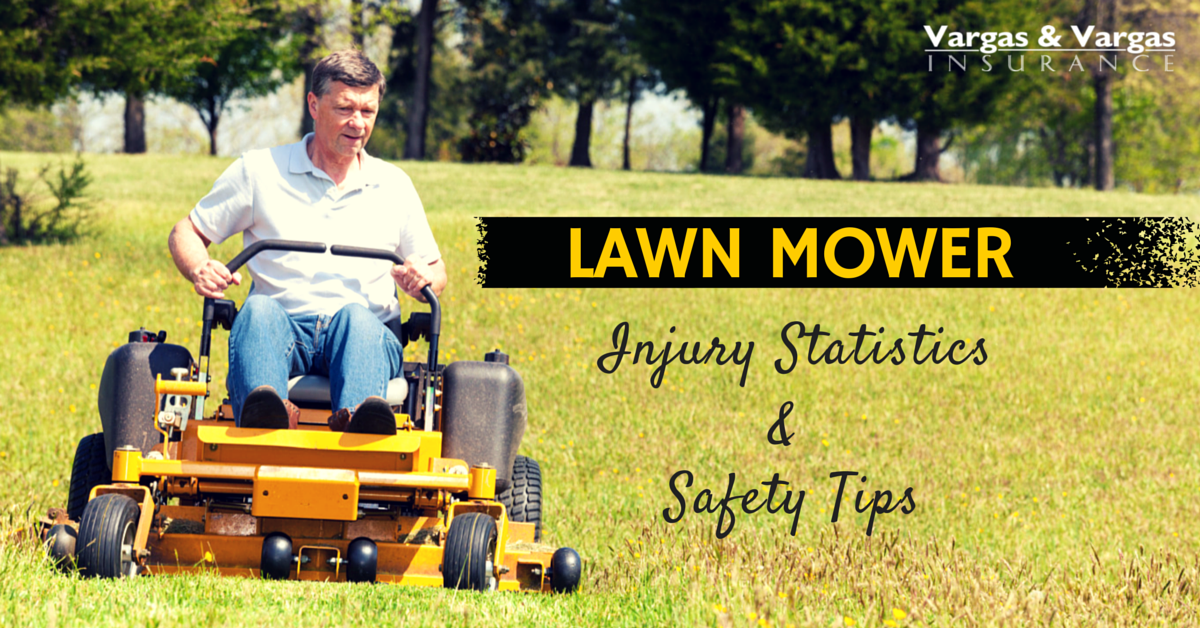 The winter snows have melted, and the grass is green again. That can only mean one thing – it's time to resume your normal lawn maintenance routine. If this means dusting off a push or riding lawn mower, the insurance professionals here at Vargas and Vargas Insurance Agency would like to remind you that these instruments can be very hazardous, and should be treated with care.
Before you begin mowing, familiarize yourself with the potential dangers of lawn mower operation, and remind yourself of how to properly operate your machine with the tips below:
Lawn mowers are dangerous
Before you begin to mow your lawn, you need to respect the inherent danger in operating a lawn mower. Here is a statistic from the American Academy of Orthopedic Surgeons that succinctly describes the danger of lawn mower operation: "The energy transferred by a typical lawn mower blade is equivalent to being shot in the hand with a .357 magnum pistol." Worse yet, a lawn mower has the potential to turn any rock, stick, or debris into a dangerous projectile. In 2010 alone, over 250 thousand people were treated for injuries related to lawn mowers.
Maintaining a lawn mower
Make sure that you have a lawnmower serviced by a professional at least once a year. This is typically recommended before the first mow of the year. If there is an issue with your mower, make sure that the motor is off and that the mower is completely cooled off before inspecting the equipment.
If you find that there is a blockage in your mower, never use your hands (or any part of your body) to remove it. Put safety first, and remove the blockage with a stick or broom handle. Also never remove any guards or safety devices from your mower. Those objects are there for your safety!
Operating a lawn mower safely
When you're getting ready to mow, make sure that you follow the proper procedure. Clear the area that you are going to mow of debris including rocks, sticks, toys, and furniture. Always add fuel before you start the engine, and wear protective gloves, goggles, and hearing protection for your safety. Also wear long pants and sturdy shoes (not sandals) when mowing.
Keep children away from the lawnmower at all times, and never allow a child to ride on the mower. Also make sure that you follow all of the instructions outlined in your lawn mower's operations manual while it is in use. Above all, ensure that you and your family know the rules of lawn mower safety, and that you put safety first at all times while a mower is in use, whether it is a family member or a lawn service that's doing the mowing.
If you decide that you're not ready to shoulder the burden of operating a lawn mower safely, don't put your health at risk. Instead, hire one of the many Massachusetts lawn mowing services available for your convenience. Just like Vargas and Vargas Insurance Agency is the premier purveyor of Massachusetts insurance policies, a professional mowing service will provide customized services for your needs at the right price. Stay tuned to the Vargas and Vargas Insurance Blog for more summer safety tips, including pool safety, grilling tips and more!