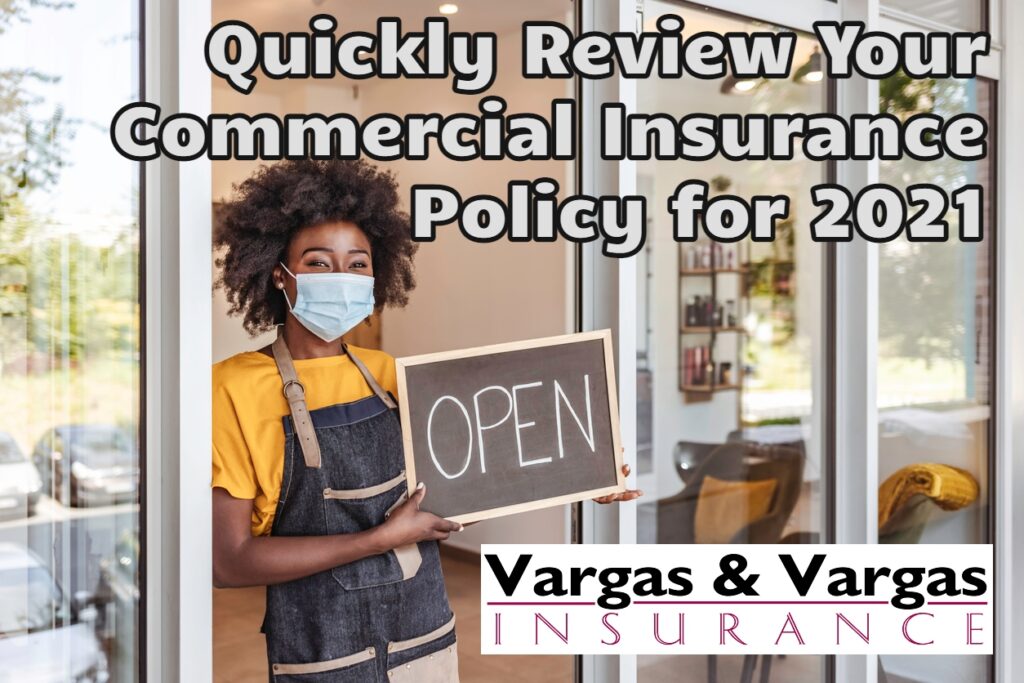 Commercial insurance policies are complicated. At Vargas & Vargas, we know small business owners are focused on running their businesses. You don't always have the time to pour over commercial insurance policies in detail. Today, we will make a few key points that you should consider as we move forward in 2021.
Review the Most Important Points of Your Commercial Insurance Policy
The declarations page (dec page) of your commercial insurance policy is usually the first page. It contains a ton of essential information.
Before getting into the minutia, check that all the information on your dec page is correct:
A correct property address is vital for claims.
Ensure the contact names and business owner names are right. Only the named insured can make changes to a policy.
Be sure the contact phone numbers and email addresses on your policy are correct, too.
Then, consider your coverages. In the wake of COVID-19, we know many small businesses have evolved.
Has Your Business Changed Much in 2020? If So, Talk to an Agent
From social distancing and healthcare concerns that limit foot traffic to increased online shopping and curbside meals, we know the business landscape has changed in Massachusetts. You might need to adjust your insurance if:
You have much lower sales numbers than predicted in 2019 — maybe you're stocking less inventory or hosting fewer customers. Either way, you might be able to reduce your premium because your risks are lower.
You've sent your workforce home.
You've scaled back operations.
In short, if you made any significant changes to your business in 2020, it's time to talk to an insurance agent.
If You're Concerned About Civil Unrest
Commercial insurance policies usually cover civil unrest, riots, and malicious mischief. But if you're worried about political turmoil in your neighborhood, then check your policy to be sure.
What if you've closed up the shop, but you're still operating out of your home? Know that your homeowner's insurance policy won't cover much related to your business. You might still need a business owner's policy.
Vargas & Vargas Insurance is proud to be your premier local independent insurance agency. We work for our clients, not the insurance company. We're ready to customize your commercial insurance to your unique needs at the right price, and we're here to answer your questions. Remember, if you have deeper questions about commercial insurance in Massachusetts or need help with a Business Owners Policy (BOP), contact a licensed agent today.