Here at Vargas and Vargas Insurance Agency, we always want to bring you the best: the best auto insurance, best home insurance, best business insurance, and so on. We ensure that this is done by making sure that our insurance agents are the best of the best. Only then can we know for certain that our customers are getting optimal policies and excellent customer service.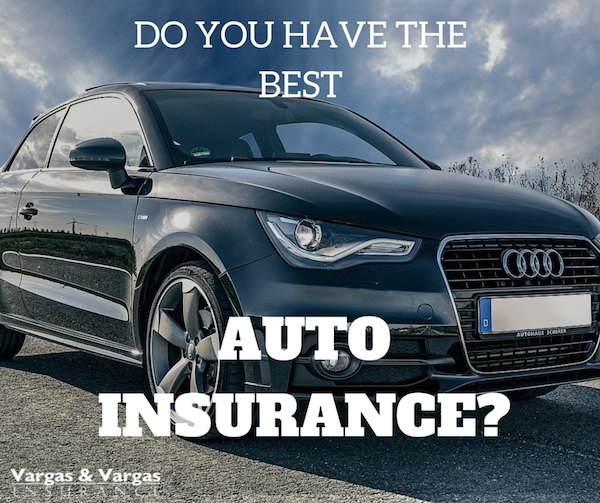 At our agency, we are always looking to educate our customers about their insurance. If, for example, you are looking for the best auto insurance policy available, you can use the following four pieces of advice from our insurance professionals.
Have a balanced deductible and premium.
An insurance policy is always a balancing act between two things – the deductible and the premium. If one is too low, then the other is too high. You can lower your monthly payment, but it will mean paying more out of pocket when you need to make a claim. On the other hand, a low payment on a claim typically means an elevated monthly payment. Finding the right balance means some trial and error, and the advice of an experienced insurance professional.
See if a payment plan could lower your expense.
Did you know that certain types of payment could get you a discount? Depending on your insurance provider, you could get a discount for paying your 6 month premium in full. This discount could be up to 10% of your rate! With proper planning and saving techniques, it is possible for anyone to save up the required amount in advance of the payment due date, and doing so could save you a significant amount on your next insurance premium.
Ensure that you take advantage of all possible discounts.
To get the best car insurance available, you need to make sure that your insurance agent searches for a policy that will get you great coverage at a great price. This often means searching for a policy that has several available discounts for which you quality, for example:
Good driving record

Passing defensive driving courses

Student driving (with GPA requirements)

Low mileage per year
Depending on your unique situation, your insurance agent can search and make sure that you get car insurance from a provider that offers discounts that match your circumstances.
Shop around for a new policy.
Following a major life event or a period where you have a spotless driving record, it could be in your best interest to search for a new car insurance policy. Sometimes changing insurance providers will mean a better rate (and even better coverage) than your previous provider, even when factoring in any loyalty discounts that you may have. And remember – it never hurts to keep your eyes open, so make sure that you consult with your insurance agent about your current policies at least once a year to explore your options.
If you want to see if obtaining a new auto insurance policy is the best option for you, all you need to do is call Vargas and Vargas Insurance Agency at 617-298-0655. Our friendly and knowledgeable staff would love to walk you through the quote process. And one of the best benefits of using an independent insurance agency is that you only give us your vital information once, then we shop around for you to find the best auto insurance to fit your needs!