Auto Insurance Massachusetts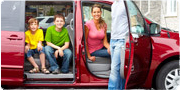 Your car is an important part of your life. It gets you from place to place. Without it, you would probably have a difficult time getting to work, running errands, and seeing your loved ones. Make sure you're your car is protected with the help of a Massachusetts auto insurance policy from Vargas and Vargas Insurance Agency.
The Importance of Auto Insurance in Massachusetts
Accidents are a part of life, but with car insurance, an accident doesn't have to be a financial burden. Whether you need to insure a minivan or convertible, a work truck or classic car, Vargas and Vargas Insurance Agency can provide automobile coverage to suit your unique needs.
Dorchester Car Insurance Coverage
Every auto insurance policy is different, but most Boston auto insurance quotes will include four types of coverage. These are collision, medical, liability, and comprehensive. These four coverages together will ensure that you are protected against damage or loss of your vehicle, medical and legal expenses related to vehicle related damages, and more. You can even get special coverage designed for antique automobiles, classic cars, high performance cars, and more.
Consult your Massachusetts insurance agent to find out just how much coverage you are required to have based on state laws, and if you should consider any additional coverage.
Boston Auto Insurance Discounts
When you buy car insurance in Massachusetts, you should know that you are eligible for several discounts. Here at Vargas and Vargas Insurance, we will make sure that you get all the discounts for which you qualify, including:
Discounts for safety equipment in your vehicle, such as seat belts, airbags, anti-lock brakes, anti-theft devices, and more.
A new car discount for vehicles that are less than two years old and where you are the first owner.
Savings for bundling your Dorchester car insurance with your home or renters insurance, or for insuring two or more cars through the same insurance provider.
A "Green" discount for driving an economy car.
Discounts for paying in full, with automatic withdrawal, or for going paperless.
Reduced rates for "Good Students" and Seniors 55+.
Being a defensive driver or having no violations or accidents on your record can also earn you a discount.
Discounts for belonging to certain groups, including alumni associations, the US Military, and more.
It's important to note that not all insurance providers offer all of the discounts listed above. Our experienced Boston insurance agents will work with you to find the best carrier for your needs, and at the best price.
Getting Massachusetts Auto Insurance Quotes
Thankfully, getting an auto insurance quote is easy with the help of Vargas and Vargas Insurance Agency. With a single call, one of our agents will gather your information and search many insurance providers for a policy that's right for you.
If you're interested in getting a free, no-obligation Boston car insurance quote from the helpful agents here at Vargas and Vargas Insurance Agency, just call 617-298-0655. We work hard for our clients, and we look forward to finding an auto insurance policy that fits your distinctive needs.