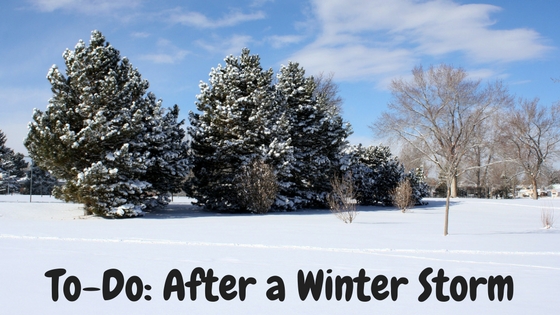 Have you read the blogs on what to do before and during a winter storm? If so, then you're ready for the third and final part to this blog series – what to do after the storm passes. It's easy to think that you're free and clear once the storm blows over, but there are still a few things that you should check off your 'to-do' list:
If your home lost power during the storm and you need a safe place to stay warm, find a local shelter by texting SHELTER + your ZIP code to 43362 (4FEMA).
Learn from the storm. Make a note of anything that you could do in the future to be more prepared, including supplies that you should add to your emergency kit, and improvements you could make to your family communication plan.
Make sure to restock any items in your emergency kit that you may have used during the storm, including batteries, medicines, food, water, and more.
If your home was damaged due to the storm, call your local independent insurance agent to find out if the damage is covered by your home insurance policy. They can get started making a claim for you right away!
If you need any help with your home insurance or want some general insurance advice, please let me know. And make sure that you stay tuned to this blog for more tips on winterizing your home and car, and on how to get the most out of your insurance policies.
Hopefully, our series of winter storms has been beneficial to understanding what to do, before, during and after a winter storm. If you need help with a Massachusetts auto, home or business insurance, we are the experts at Vargas and Vargas Insurance Agency, just call 617-298-0655. We will be happy to help you understand all of your insurance needs and coverage options, and select the plan that's best for your unique needs.