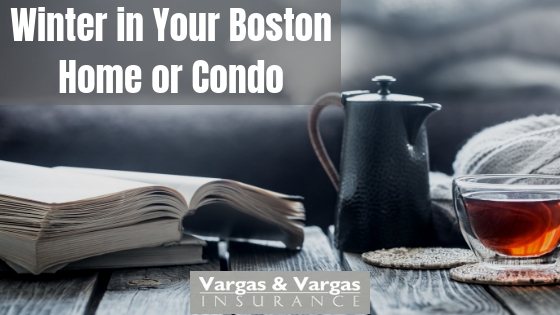 Winter is in full swing once again here in the Boston area. What are your favorite winter activities? We want to share some tips for staying warm, healthy and happy this winter in your home, apartment or condo. Choose one or try them all! Hopefully they can make your winter a little more joyous.
How to Stay Warm
The average low temperature in Boston for winter months is easily below freezing, so staying warm can be a challenge. Before you crank up the heat, check to ensure that the cold air is staying outside where it should be. This is best done with energy efficient (and non-draft-prone) windows and doors. See about refitting your home's windows and doors if you are falling victim to drafts – these will cost you money year-round, cooling your home in the winter and heating it in the summer.
Do you have a programmable thermostat? Setting it to 68 degrees will heat your home while also conserving energy, according to ready.gov. Make sure to lower it by 10 or more degrees at night, though, to save approximately 10% on your heating bill. Also see if you can close the heat vent and shut the door to any unused rooms in your home or condo to cut your heating costs even further. It is also prudent to ensure that you have a back-up heat source in case of a power loss.
How to Stay Healthy
During the winter, more people stay indoors, and this means an increased number of germs in your home, apartment, or condo. Stay healthy by getting a flu shot if you can, and by washing your hands often. Also, regularly disinfect the surfaces of your home that are touched often. Just in case someone in your household falls ill, have the necessary medical supplies on hand so that you don't have to make a rushed trip to the pharmacy.
Staying healthy in the winter also means finding the opportunity to exercise. Not many people want to go for an outdoor jog in the middle of winter in Boston, but there are plenty of alternatives that will keep you fit until the warm weather returns. Many people will choose to exercise at their local gym, where cardio and weight equipment are available year-round. Some gyms in the area also offer indoor pools and/or fitness classes that can keep your exercise routine fresh and new. There are also plenty of options available for people that would rather exercise at home, and you don't have to spend a lot of money on expensive equipment.
If you would rather continue to get your exercise out in the fresh air, choose an appropriate wintertime activity. Ice skating can be a great cardio workout, you can also try something more off-the-wall, like cross-country skiing or snowshoeing. Just make sure that you are dressed appropriately, and that you take plenty of breaks from the cold and that you stay hydrated as you work out outside.
How to Stay Happy
As we mentioned, the cold weather of the winter often means spending more time indoors. For some people this can lead to wintertime blues and boredom. Instead of being unhappy that you must spend so much time inside, try to be thankful for the extra time in your cozy home. Get your family together to play a board game, binge watch a tv show that looks interesting, cook up a new recipe, or check something off your reading list.
Need to get out of the house? You're in luck! There are lots of activities in the Boston area in the winter, so you don't need to feel like you're cooped up – even when the city is blanketed in snow! Family activities are especially popular this time of year, including the Holiday Bricktacular at Legoland Discovery Center, Santa Saturdays at the Franklin Park Zoo, and Snowmazing! at the Boston Children's Museum, among many others.
A few more favorites from the agents here at Vargas and Vargas Insurance Agency include seeing The Nutcracker at the Boston Ballet, catching a Holiday Pops performance at the Boston Symphony Hall, and seeing the Christmas trees at Faneuil Hall and the Boston Common. There are plenty of events happening in the area, so bundle up and have some fun out in the city to ward off the boredom often brought by the cold weather.
We also want to make sure that you know that Vargas and Vargas Insurance Agency is here for all your home, renters, and condo insurance needs this winter (and all year-round). If you want to have a chat about your current insurance policies, or if you have an insurance question, all you have to do is call us at 617-298-0655. One of our friendly and knowledgeable agents will be happy to take care of you!