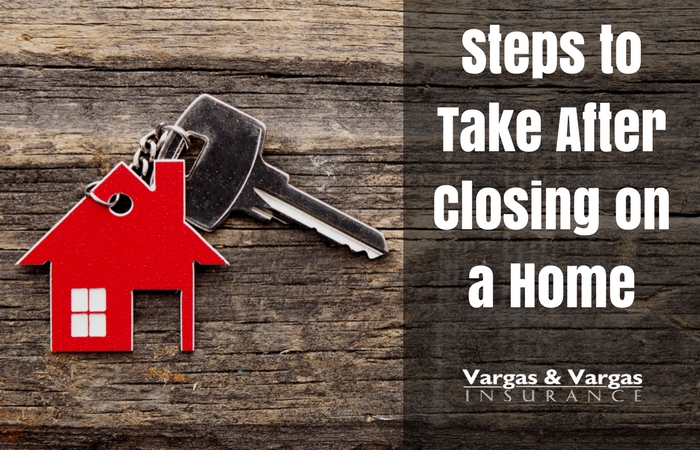 Whether you're a first-time home buyer or you've been through the home buying process before, you may ask yourself: "Ok, closing is over… now what?" The truth is that once all the paperwork is signed, you've got your work cut out for you! Here are a few things to add to your "Post Closing To-Do List."
Store Your Important Documents
When you close on a home, you will be entrusted with many papers regarding your home. When in doubt, don't throw it out! Keep these papers in a safe place in case you need them in the future. One of the best things that you can do is scan these papers and store them in the cloud, keeping the originals in a safe deposit box.
Put Safety First
Without question, one of the first things you should do when you get the keys to your new place is to change the locks. You never know who holds a copy of the existing locks, so it's best to start fresh. The cost that you incur will be well worth the peace of mind that it brings to know that copies of your homes keys are floating around the neighborhood, especially given the possibility that previous homeowners could have given out copies to maintenance workers or others. Also make sure that you update the pin number on the existing security system, if you choose to renew the service.
Clean to Your Own Standards
The home is empty, so this may be your only opportunity to do a deep cleaning without having furniture in the way. If you are particular about how things are done you may opt to do the initial cleaning yourself. Otherwise, there are many home cleaning services in the Boston area that would be happy to do a one-time job that will get into every nook and cranny so that you can start with a (literal) clean slate.
Now is also a great time to have a pest control service come to treat your property. Some mortgage lenders will require this as a part of their contract, but it is probably a good idea regardless.
Make Improvements
After everything has been cleaned, you may choose to make some improvements to your new home. The complexity of the improvements that you choose is up to you! You could decide that your home is perfect as-is, or that it simply needs a new coat of paint. Painting is an easy way to give a home a fresh feeling, and to make it feel more like your own space.
There are also more involved projects that you may want to take on, like remodeling the kitchen or adding a pool. It's your home – the sky is the limit!
Familiarize Yourself with Necessities
When you own a home, there are a few things that you need to be able to locate in a jiffy. One is the water system shutoff. If a pipe ever bursts, you don't want to have to wonder where to go to stop the water. Also check the breaker box and make sure that everything is well labeled, and that there is a battery-operated light nearby so that you're ready for a power outage.
Before you move in, have a professional check and perform maintenance on your home's cooling and heating systems, as well as the electrical outlets and plumbing. You probably already had a professional inspection, but it never hurts to have the first maintenance out of the way so that you can establish a routine.
Now is also a great time to ensure that the home's smoke detectors and carbon monoxide detectors are working properly. Add a recurring reminder to your calendar to check these detectors twice a year – typically it is recommended that this be done during the Daylight Saving Time clock changes.
Move In!
Once you have done the things outlined above, it's time to start moving in! This is pretty self-explanatory, just make sure that you're careful if you or any loved ones does any of the heavy lifting – the last thing you need when trying to set up a new home is an injury. If you're hiring professional movers, check to make sure that they have the right insurance coverage so that you can't be held liable if any of their workers are injured on the job. Last but not least, ask your Massachusetts insurance agent about how your possessions will be covered during your move, and how you should file a claim if anything is damaged or broken.
Ensure That You're Prepared
You never know when trouble will strike, so make sure that you're ready for anything. Create or practice your family emergency plan. Make sure that all members of your household know where the emergency kit is kept, and how to use everything in it. Also keep a list of emergency contacts where everyone can access it, including the phone number for your favorite local insurance agency.
As a new homeowner, you need to make sure that you have the right insurance protection. This means buying the right amount of coverage, not just the minimum amount required by your lender. To find out what types of coverage you should have for your Boston home, call Vargas and Vargas Insurance Agency at 617-298-0655.