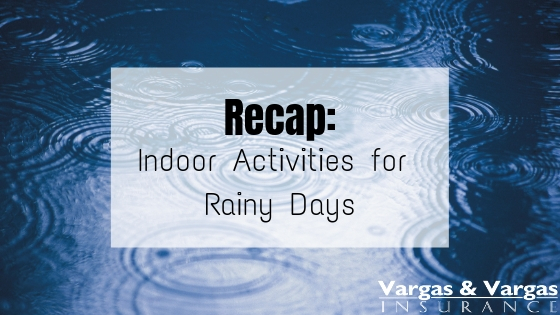 "And when it rains on your parade, look up rather than down. Without the rain, there would be no rainbow."

– Gilbert K. Chesterton
At Vargas and Vargas Insurance Agency, we love days when the sun is shining – but we also know that it's important to embrace the rainy days! The next time that you're besieged by a day of grey skies and rainclouds, don't despair. Instead, gather up your family and try out one of the following activities:
Pull out the arts and crafts! There are hundreds of craft tutorials online for kids and adults of all ages, and you probably have the materials on hand already!
There's not much better than a good book on a rainy day. Find a cozy spot and host a family read-a-thon. Bonus if there are healthy snacks involved! Also encourage everyone to share what they're reading about.
Like arts and crafts, cooking is an activity that can be tailored to all ages. Have kids help prepare dinner or bake something yummy for dessert! Having kids help make food also makes them more likely to try new foods.
Still need something to do on a rainy Boston day? Talk to your Vargas and Vargas Insurance agent about your policies! Make sure that they are up to date and ask about the benefits of an umbrella insurance policy for extra liability protection. Just call 617-298-0655 to speak to a friendly and knowledgeable insurance agent.