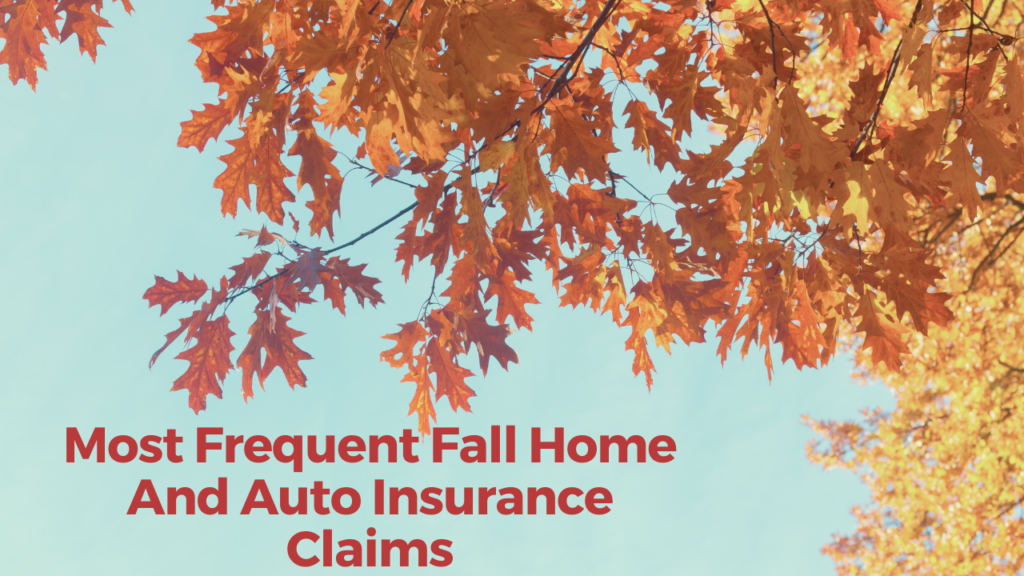 During different seasons, claims adjusters encounter different types of claims. Leaves falling from trees can cause drivers to skid. Wildlife often crosses roads without paying attention to traffic. Rushing drivers may have partially obstructed views due to frosty windows.
Claims adjusters and insurance agents can educate policyholders about seasonal risks during the claims process. Here are nine types of claims that increase during the fall and early winter.
As leaves begin falling, some types of insurance claims are rising.
Animal Collisions – Fall is a busy time for animals preparing for winter. Be alert on the roads, especially during the morning and evening hours.
Water Damage – Heavy rains and freezing pipes can lead to water damage. Have your pipes checked out by a professional to avoid any leaks.
Fire Damage – Colder weather increases the use of candles, stoves, and fireplaces. Be sure to get your chimney evaluated each season, never leave a burning candle, and pay attention while cooking.
Rear-end Collisions – These increase due to low visibility driving conditions. Always keep a safe traveling distance behind the car in front of you, and pay attention to speed limits.
Parking lot claims – With the holidays just a few months away, people are going to malls and shopping centers more often. This means more drivers and more claims for accidents in parking lots. Some hazards include damage from shopping carts, car thefts, and tight parking spots.
Snow and ice – In some parts of the country, snow claims happen from October to December. Check tire tread and inflation before cold weather. Slow down on wet, icy, or leaf-covered roads. Keep your gas tank half full to avoid burning fuel if stuck in snow traffic. Check battery, wipers, anti-freeze, and wiper fluid levels. Keep shovels, blankets, and snacks in the car in case of a breakdown.
Auto thefts – Auto theft claims peak in the fourth quarter, with about 25% of claims occurring during this time. The Insurance Information Institute reports that over $4 billion worth of auto thefts were reported in 2013. To prevent theft, avoid leaving gifts and other valuable items in your car. Remove visible packages, briefcases, and electronics, and wipe away the suction cup ring left by GPS devices. Take photos of high-value items and keep receipts as proof of ownership. Consider asking mall security to escort you to your car, and always lock doors and close windows before leaving your vehicle.
Home thefts – More claims happen in the fall, burglaries increase 25%. To be safe, homeowners can use timers for lights and motion detectors for outdoor lights. They can also use apps to check who comes and goes from their home. Valuables should be kept in a fireproof safe or safety deposit box.
Here is a Pro Tip – Keep your trees pruned. This will not only eliminate dead and dying branches but it also encourage new growth by improving sunlight exposure and air circulation. Removing weak areas also stops current damage from worsening, preventing potential lasting harm or premature tree loss.
You Local Independent Insurance Broker.
Vargas & Vargas Insurance has been assisting families and businesses with their insurance needs for more than four decades. Whenever you need help, our team can contact you at 617-298-0655.