Last week we discussed strategies to become "the authority" on your topic. Here are a few more strategies to consider.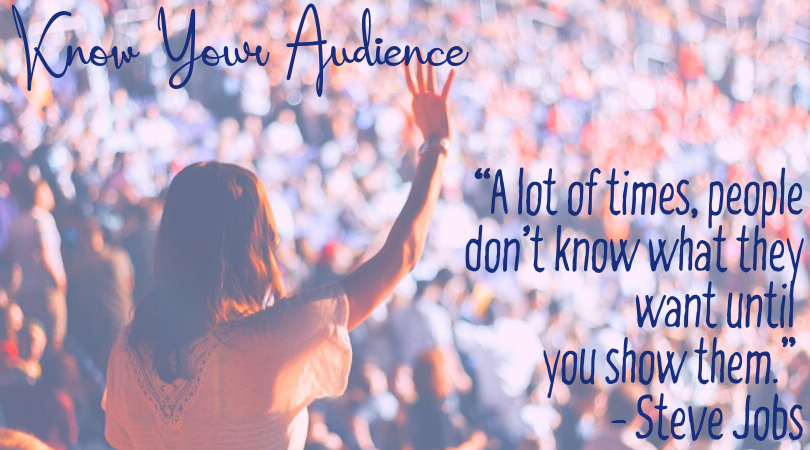 It's no surprise that I LOVE starting the week (and everyday) with words of wisdom. Today's are:
"A lot of times, people don't know what they want until you show them."
– Steve Jobs
3. Know Your Audience and Add Real Value
Knowing your audience is the core of the marketing process—without it, you wont know your audience's pain.
Seek to understand the personal goals, frustrations, and daily struggles of the individuals included in your audience.
What do I mean by being "real"? People think frequently and often, "What's in it for me?"
You need to be seen by your clients as something they value and can use. This will aid in making a real connection with them so you can be a reliable resource.
4. Be Consistent
Consistency is a key component to establishing your reputation as an authority and building the trust that comes with the reputation.
5. Engaging With Your Community
Cement your position as an expert in your community by being open and engaging with them. This doesn't mean just placing a small sponsor add in an events fundraiser booklet or responding to comments and answering questions. You need to get out and meet your "tribe" through volunteering at events, community and fundraisers. Additionally, have conversations with them by asking what they need. Most importantly, follow up and through based on your conversations.
6. Build Relationships With Experts and Influencers
Reach out to experts and influencers within your niche and in related niches that target the same audience that is your best customer. These folks are strategic alliances and could be your best referral source.
While it takes time and work to position yourself as an authority in your field, the benefits you receive will be worth the investment.
As the most trusted expert, whether you are a real estate agent, mortgage professional, builder etc., you will be the first choice in the minds when they need to hire someone that provides the services that you offer. This is because you have not only helped them to know, like and trust you, but you have also clearly demonstrated the expertise that proves you can help them solve their problems or overcome their challenges.
Please review ALL of my Monday Morning Motivation blogs HERE. 
Visit us anytime online for tips and training on how to build your business. Click here!