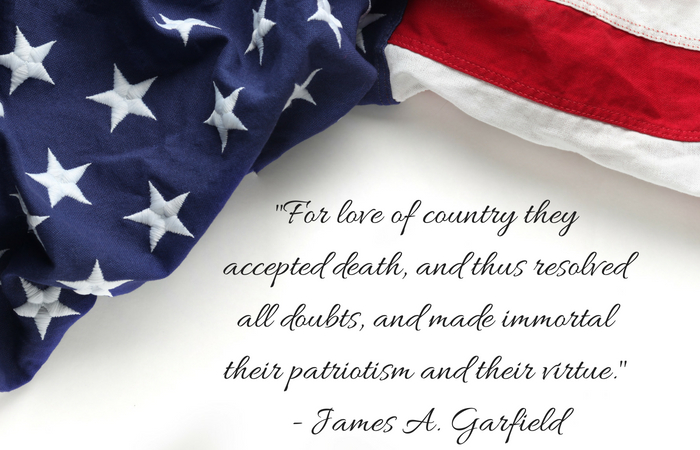 Can you believe that May is almost over? It seems like just yesterday that we were ringing in the New Year! (Speaking of, how are your Resolutions doing?) Because Memorial Day is quickly approaching, we want to honor the holiday and to make sure to remind you of a few simple safety tips that you can follow to keep yourself and your loved ones safe while you enjoy the long weekend.
What is Memorial Day?
Memorial Day is much more than just a long weekend full of warm weather and family reunions. In fact, Memorial Day is meant to be a solemn occasion to honor all of the men and women who died while serving in the US military. While people have been holding tributes to fallen soldiers since the 1860's, Memorial Day only became an official holiday in 1971, and is observed on the last Monday in May each year.
Break Out the Grill
Many families choose to celebrate Memorial Day weekend with their first cookout of the year. Breaking out the grill is great fun, but should be done with caution, since grills are the cause of many fires and injuries each year. We know that you don't want to have to call us with a home insurance claim, so make sure to heed these tips:
Before you fire up the grill, ensure that it is a safe distance away from your home, and that there isn't any foliage or overhang that might catch fire. Your grill should be on a stable and flat surface when in use.
When the grill is hot, never leave it unattended. Always have a fire extinguisher nearby in case of an emergency. Remember that baking soda should be used for grease fires – never water!
Keep children and pets away from the grill.
Use a meat thermometer to ensure that your food is cooked to the proper temperature.
If you're using a gas grill, check for leaks before starting it, and stop cooking immediately if you smell gas.
After use, clean the grill to remove fat buildup and grease.
And if you want to shake up your grilling lineup by making something besides hot dogs and hamburgers for your cookout, try some of the Vargas and Vargas Insurance favorites like grilled potato salad, grilled jalapenos, and grilled brown sugar pineapple.
Know Your Host Responsibility
If you're throwing a party or cookout for more than just your own family, you need to know your responsibilities as a host. If one of your guests that has been served alcohol gets behind the wheel and causes an accident, you could be held liable for the damages. To prevent this, keep a sharp eye on your guests and make sure that anyone who consumes alcohol has a safe ride home, or invite them to stay the night so that they are not tempted to drive while intoxicated.
As a host, you should also ask your guests if they have any food allergies. Either exclude any present allergens from your gathering or let guests know which foods they should avoid.
Hit the Road
Since Memorial Day marks a three-day weekend, many families celebrate it by taking a road trip. If you're planning on hitting the road, make sure that you prepare accordingly. Before you set off, have your car checked by a professional. Tell them that you are going on a trip and want to make sure that everything is looking good before you leave. It's also important to make sure that your car has an emergency kit. Make sure that it is fully stocked and nothing inside has expired.
Pack as light as you can, and leave plenty of room for souvenirs that you will buy along the way. And make sure that you bring plenty of cash (both bills and quarters) for any tolls that you may encounter along the way! If you have one, check your EZ Pass balance, and ensure that it is set to automatically refresh when you run low on funds. Also make sure that the credit card you have on file hasn't expired.
The day that you leave, make sure that you get a good night's sleep so that you are alert while you drive. Have plenty of snacks and stay hydrated (even though it may mean a few extra rest stops). Also have plenty of entertainment for all of your passengers. Depending on the age range of your squad, try audiobooks, podcasts, and car trip games, in addition to lots of music!
No matter how you are planning to celebrate Memorial Day, make sure that you do so safely. And if you plan to take a road trip or host a cookout, you may want to take a minute and call your local Massachusetts insurance agency at 617-298-0655 to check your insurance coverage. Your agent can quickly review your home insurance and auto insurance policies to ensure that you have complete coverage for any activity in which you choose to participate.