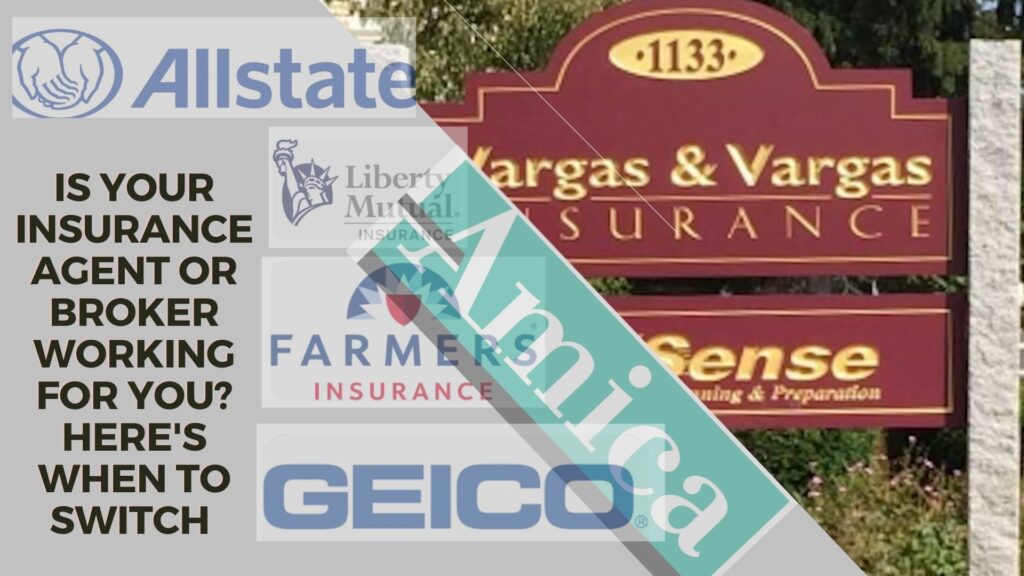 Do you need a new insurance agent or broker? Maybe you're unsure and looking for advice or wanting to switch agents. It's important to choose the right one, so it's wise to do your research and evaluate potential agents. Not all agents and brokers are the same. How can you distinguish a good agent from a bad one?
What are the benefit of changing my agent after having worked with the same one for a long time?
Your insurance agent may not be good even if you're used to them. You may have outgrown them as your needs change over time. You might be missing out on savings if you've been with the same agent for a long time. Switching agents can help you find better deals and stay up to date with industry practices. It's important to work with an insurance broker who will review your insurance annually, compare quotes, and recommend alternatives when it's time to switch insurance companies for more favorable rates. At Vargas & Vargas Insurance, we do this for ever client every single year.
What Is An Independent Insurance Brokers
An Independent insurance broker does not work for a single company but instead serve clients in finding coverage from a network of insurers. Unlike agents who are tied to one company, like Allstate, Liberty Mutual, AMICA, GEICO and many others, independent brokers have the flexibility to work with multiple insurance providers to find the best coverage options and rates for you. They have no vested interests in promoting a particular company, so you can trust that their recommendations are based solely on your needs. Whether you need help navigating a life change or simply want advice on switching to a new car insurance provider, independent brokers are there to provide unbiased advice and help you make informed decisions.
What Is A Captive Insurance Agent
Agents who work exclusively for one insurance company are called captive insurance agents. They are obligated to sell their company's insurance policies, regardless of whether it is the best fit for the customer. If you choose to work with a captive insurance agent, you may not be getting the best possible insurance coverage or rate. This is because they will only offer you rates that are available through their company, and not necessarily the most affordable options. They are not motivated to help you switch to another insurance company, as their commission is tied to providing good customer service for their company. While they may strive to provide excellent customer service, their primary concern is the success of their company, not the satisfaction of their clients.
Buying Insurance Online
If you lack knowledge about insurance, buying your insurance online can be perplexing. And sometimes, there may be some fine print or confusing legal jargon that you might miss. However, if you choose to use an insurance agent, we can assist you in deciphering all of those details. Even though some online companies call center agents, they may not be able to provide personalized service, and you might end up speaking with multiple people. This can be a problem because if you've already explained your concerns to one agent, the next agent you speak to may not have that information, and you'll perhaps have to start from scratch.
Finding The Right Insurance Broker Or Agent For Your Needs
Do your homework. Find a broker or agent who genuinely cares about your interests. With numerous options available, it's tough to choose, especially when every one of them claims to be the best.
Check out reviews and recommendations. Start by talking to people you know, like, so you can trust their feedback. Who did they have a positive experience with? Who do they advise you to steer clear of? These suggestions matter.
If personal recommendations don't help, go online. Look for insurance agents' ratings and reviews on platforms like Google, which can guide potential customers. Additionally, when reviewing online reviews, check if the business responds to its reviews. A business that values its clients and reputation will engage with the feedback they receive.
To learn about the insurance options offered by Vargas & Vargas Insurance, you have a few options. You can reach out to an agent by calling 617-298-0655, visiting their website at vargasinsurance.com/contact-us, or even sending a text to 617-409-0329. The team is ready to assist you with any inquiries or issues you may have.