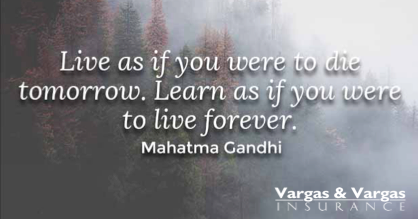 "Live as if you were to die tomorrow. Learn as if you were to live forever."
-Mahatma Gandhi
Thank you to everyone who showed their love by replying to last week's message!
Your feedback and responses have been incredible, AND I am so looking forward to having coffee with you and will reach out to everyone else by the end of this week to schedule a time for us to meet.
I'm glad last week's emails resonated with so many people!
I am a man in love. I'm in love with many things, and a few people. And I'm also in love with learning – it's what makes my 'business-me' work well.
I'm drinking a Starbucks "Clover Pressed" Panama Carmen Estate Reserve Blend at our local Starbucks shop (I find that I sometimes work better here than at home or the office, it helps me to pause and people watch). What's in your cup?
I asked in last week's message, "How are you feeling about your year so far?" I am feeling pretty good about my year… the summer is here, which in my book has always meant that the workload scales back a notch or two and Kathy and I get outdoors more than ever, and all of the meet and greet family and friend events are starting, of which I try to not miss any.
Lately, I'm learning from people who push beyond average. The time for average is over. I am learning from people who live simply but with impact. I'm learning how clarity and the value of integrating your life around the alignment of your mission, your goals, and the targets related to those two points matters a lot more than which social network you use.
We are wasting so much energy in turbulence instead of in forward motion. We are drowning ourselves in distraction (Trump, Russia, impeachment, etc.) and are avoiding facing the work that we must do. We're still chasing the shiny and new when what we need most are the basics. We are seeking every possible opportunity to lie to ourselves, coddle ourselves, or make excuses.
There are plenty of employees and passive people roaming the planet that are just waiting for "the man" to ruin their lives more so that they will have something new to complain about. But you're an owner/entrepreneur. Even if you're an 'employeepreneur,' your belief is that you own your choices affect your own your life, and you aim to own your future.
We strive to build our capabilities through learning and executing on that knowledge so that we can be of better service to the people we have the opportunity to serve.
What's right for you? Even if you're not sure, I know this: learning is a part of the menu, and it must be. Every day.
Since starting down the path of helping others, I've learned that it's important to be relationship-minded. I've learned that, like with all industries, there are good and bad examples. I've learned that my concept that "we are all salespeople" is absolutely true in marketing. And I have learned that many self-employed/entrepreneurs are happy to "just be," rather than growing their knowledge or brand.
Right now I am reading two books, my summer enjoyment reading is Winter of the World by Ken Follet and to stay sharp and continue learning, Fanatical Prospecting by Jeb Blount.
That's all I have for today. I'm finding myself drawn to people seeking the next level. Those who are making excuses or who feel they've already figured it all out aren't that interesting to me. I'm sure they're nice people, but I've only got 50 years left on this planet (if I'm very lucky) and I'd rather spend it with people who care.
And thus, I end where I began – What you learn matters. Do you agree?
What are you learning?
Carlos