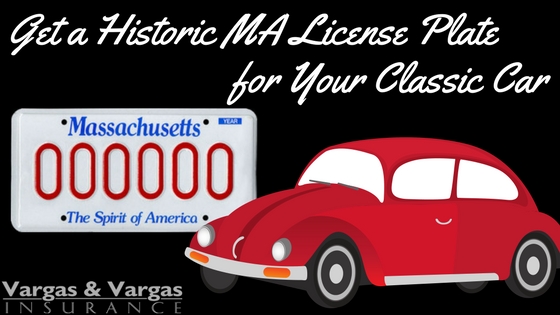 At Vargas and Vargas Insurance Agency, we love seeing classic cars on the road. It takes us back to a simpler time. Did you know that classic cars can have special license plates in the state of Massachusetts? Here are the two specialty plates that you can request for your antique vehicle:
Antique Plates – These plates may only be used for vehicles that are over 25 years old. In addition, the vehicle must be used only for exhibitions, car club events, and similar activities. The total cost of this plate is $50 annually – this will increase to $80 annually if your antique plate is personalized.
Year of Manufacture (YOM) Plates – To keep your car as original as possible, the state of Massachusetts will allow you to use license plates from the vehicle's year of manufacture. The vehicle must be over 25 years old, and must have passed a state inspection. In addition, you will be required to acquire authentic Massachusetts license plated issued in the model year of your vehicle. The plates must be in good condition, and may be no more than six characters. The fee for using Year of Manufacture Plates is $50 annually.
If you're interested in finding out more on how to get a specialty plate for your classic car, see the Applying for Specialty License Plates page on dmv.org.
We want to make sure the classic cars in the Greater Boston area are properly looked after, and protected. That's why we offer top-notch classic car insurance for our clients. For a free insurance quote on a policy that will protect your classic car, just call 617-298-0655 and speak to a Vargas and Vargas Insurance agent.