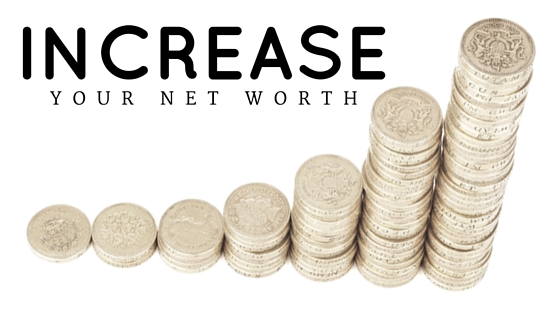 Your net worth is simply the value of all of your family's assets. Those people that are living paycheck-to-paycheck probably don't have a very high net worth. On the other hand, those people that wish to retire comfortably will focus on building their net worth and achieving financial freedom.
If you're interested in increasing your net worth (and, truly, who isn't?) here are five ways that you can do so:
Earn More and Spend Less
One of the simplest ways to improve your finances is to leverage your budget. Most people know that spending less means that you have the opportunity to put more into savings. You can also do this by increasing your earning. Ask your boss for that long overdue raise, or explore other earning opportunities. If you do both, you will be well on your way to increasing your net worth.
Reduce and Eliminate Debt
Once you've got some extra money around, you can begin putting it to work for you through many different types of investments. Remember, though, that you should also focus on paying down your debts, especially those with high fees and interest rates. When considering your net worth, all types of debt will be deducted. This includes student loans, car loans, mortgages, and credit card balances.
Purchase a Home
Don't make this decision lightly – owning a home can be a huge commitment. When it comes to net worth, though, owning a home is definitely a plus. Instead of 'throwing money down the drain' paying rent each month, you can own a home and build equity in an investment each month when you pay on your mortgage. And when you pay off your mortgage, the value of your home will be a huge part of the net worth of your household.
Maximize Your Retirement Contributions
If you were offered free money, wouldn't you take it? You would be surprised how many people don't take advantage of money offered by their employer via a 401K match program. Make sure that you read the fine print of your workplace's retirement account, and contribute at least the percentage required to receive a full company match – typically somewhere around 3% of contributions. Also remember that the money that you contribute to a 401K is tax deductible!
Protect Yourself with Insurance Policies
Once you've begun building your household's worth, don't leave it exposed to emergencies. It would only take one accident to completely wipe out all that you have built. Alleviate this stress with an insurance portfolio. Vargas and Vargas Insurance Agency can help you get the proper coverage for your home, car, valuables, and more. Just call 617-298-0655 to talk to one of our expert Massachusetts insurance agents about protecting your assets with top of the line insurance.
To learn more about achieving financial stability and getting on the right road to retirement, talk to a financial planner. Here at Vargas and Vargas Insurance, we have financial planning professionals that would be happy to review your current financial standing and help get you on the right track to financial success.