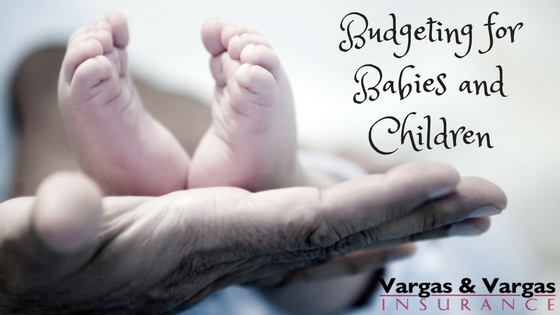 Here at Vargas and Vargas Insurance Agency, we have clients in all stages of life – from new drivers to newlyweds to retirees, and everywhere in between. This article is for those of you that are growing your family tree. Children are a blessing, and it's so important to be well prepared for their arrival. Here is some food for thought on budgeting for children of any age:
Babies and Toddlers: Babies can be expensive. In addition to the recurring expenses like groceries and diapers, you will have several one-time purchases including a crib, stroller, car seat, and more – especially if this is your first child.
Children: Kids grow quickly, so be ready to start a consistent flow of clothing. In addition, kids need to be entertained and enriched, so be ready to pay for field trips, summer camps, sports teams, music lessons, and more. This is also the time to start thinking about a college fund, if you haven't already.
Teenagers: As children grow into teenagers, their toys only become more expensive. Buying them phones, tablets, and/or laptops isn't cheap, but thankfully Vargas and Vargas Insurance is here for you to help with car insurance once they get a learner's permit!
And remember, adding a child to your household is an event in your life worthy of a chat with your insurance agent. You will need health insurance for the child, and should probably increase or establish life insurance policies for the child's providers. Call 617-298-0655 to speak with a Vargas and Vargas Insurance agent about how to get your insurance policies ready for your new bundle of joy.