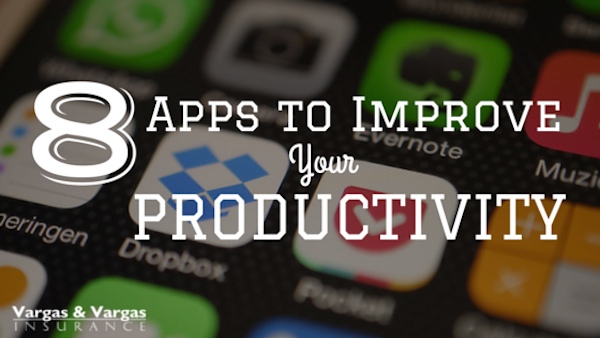 Do you want to be more productive? Who doesn't! Here at Vargas and Vargas Insurance Agency, we want to make sure that our clients have all of the tools that they need (including Massachusetts home insurance, auto insurance, business insurance, and more).
Save yourself time and increase your money-making potential by using some or all of the following apps. We have included a link and a short description of each, but we encourage you to give all of them a try to see which should be a permanent part of your repertoire.
1. Dropbox – Have you ever needed to access a file while on the go? With Dropbox (or any of the several similar services like Box and OneDrive) you can have your important files in the cloud, and accessible from a phone or tablet whenever you need them.
2. Evernote – You're on the go when inspiration strikes. What do you do? Most people are stuck hoping that they can remember their idea later, but with Evernote you can take notes or save images and access them later. Make sure that you're always prepared for a stroke of genius!
3. Magisto – Apps make previously impossible tasks as easy as 1-2-3. This is especially the case with Magisto – an app that can help you make videos, movies, walkthroughs, and so much more. In addition to their web app, they now also have a mobile app called Magisto shot.
4. Buffer – Everyone knows the importance of having a social media profile that is active and updated regularly. Schedule your social media posts with ease on Buffer. Just link your Facebook, Twitter, and LinkedIn accounts and begin scheduling posts for a whole week (or more) at once!
5. Keynote – Apps like Keynote can help you create beautiful presentations with "dazzling effects!" Designed for simplicity, Keynote allows seamless collaboration between Mac and iOS devices, and also allows work with PowerPoint users.
6. LinkedIn – I know that you probably already have a LinkedIn account. Did you know, though, that you can keep all of your professional contacts at your fingertips with the LinkedIn app? Get updates from your contacts, see a newsfeed of content from colleagues, recruit on the go, and much more.
7. Streak – Gmail is a powerful business tool. You can make it even more powerful with Streak. When you install this app, you will obtain access to an arsenal of CRM and Email tools within your existing Gmail account, including sales tools, deal flow, hiring help, email tracking, 'send later' functionality… and the list goes on!
8. Bond – The power of a handwritten note is undeniable. There's nothing quite like receiving a letter from a friend or a business. If you want to harness the power of the handwritten letter without wasting time improving your penmanship, Bond allows you to type out a letter – they will use their handwriting technology to pen your words and send the note for you!
To further increase your productivity, get the peace of mind only offered by top of the line insurance policies – like the ones you can get here at Vargas and Vargas Insurance Agency! Call 617-298-0655 to speak to an insurance agent about gaining protection for your home, car, business, and more.