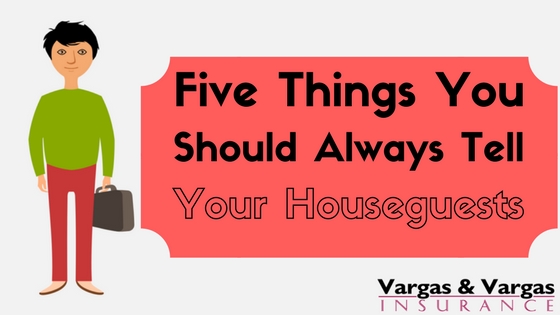 When you are planning to play host for a group of houseguests, whether for a weekend or an indeterminate amount of time, there are things that they should know. You need to tell them where to find their clean towels, and where the coffee is, for example.
According to the American Red Cross, there are a few other things you should go over with overnight guests for safety reasons, and they are easy to forget when a guest walks in for the first time. These tips include:
The rules of the pool or hot tub, if either will be in use, especially if there are children visiting.
Potential hazards for young children, including breakables and unsecured furniture. Designate an 'off-limits' room in which to store items that are hazardous.
A health emergency plan, for events like allergic reactions (make sure to ask about allergens and special diets ahead of time and warn guests of foods to stay away from).
The escape plan in case of fire, including locations of all emergency exits from your home.
Location of a nearby shelter if severe weather strikes.
If you want some suggestions for activities in the Boston area that your guests will love, follow the Vargas and Vargas Insurance Facebook Page! We are always posting about upcoming events that can help you fill your time making great memories. And know that you can also always call Vargas and Vargas Insurance Agency for a simple and free insurance review for all your Massachusetts insurance policies.